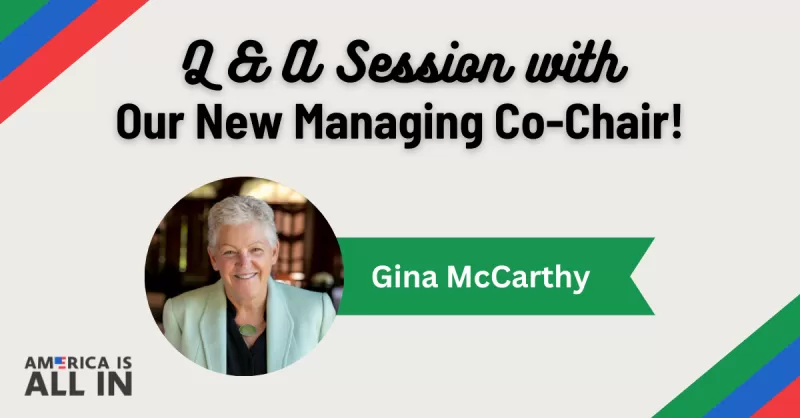 As Gina McCarthy begins her role with America Is All In, we sat down with her to discuss her new role and goals for America Is All In, her thoughts on the upcoming one-year anniversary of the Inflation Reduction Act (IRA), her mindset heading into Climate Week and COP 28, where she sees opportunities for All In members to take climate action to the next level, and more.
Welcome to the America Is All In team! We're coming up on the first anniversary of the Inflation Reduction Act. How important is this legislation to reach our climate goals?
In its first year of implementation, the IRA has been a game changer. It has opened up unprecedented opportunities to take a big bite out of carbon emissions while growing good-paying clean energy jobs, saving families money and improving air quality and health outcomes - especially for communities most in need. 
Companies have announced or moved forward with projects in 44 states, accounting for more than 170,600 new clean energy jobs and $278 billion in new investments. Our goals under the Paris Agreement to cut greenhouse gas emissions by 50-52 percent below 2005 levels by 2030 are now within reach. The U.S. can head to COP 28 ready to walk the walk, not just talk the talk.
When we marry the IRA with the Bipartisan Infrastructure Law and the CHIPS and Science Act with regulations from EPA we are driving fossil fuels out and making the transition to clean energy happen. But to achieve those goals we need everyone engaged. That's why All In is so important - it's building a coalition of actors that will make change happen.
As you step into this role as Managing Co-Chair, what are some of your goals for the America Is All In coalition? What issues do you think are most important for the coalition to address?
All In has the sole purpose of making sure we act on climate, so for me, I'm a kid in a candy store. This is my opportunity to make the shift away from government to supporting federal actions and demanding more. I'm excited about it.
My position as Managing Co-Chair means I'll be providing strategic advice to this large and diverse coalition. I'll be going to different communities to celebrate successes like we did in Charlotte. Next up is Orlando, FL and Columbus, OH. There are so many opportunities that have been made possible because of the Inflation Reduction Act. We need to make sure we spread the word about the funding that's available and get more people to tap into it.
I was in government for about 44 years, even though I don't look a day over 35. I've worked at the local, state, and federal levels and learned how to bring people and institutions together. I'm looking forward to helping organizations understand the resources that are available, so we advance projects and investments that will really move the needle.
America Is All In has a great breadth and depth of membership – 5,200+ members from all over the country from state and local governments, businesses, academic, religious and cultural institutions and from indigenous and tribal communities. Where do you see our members making the most difference in the fight against climate change? 
The IRA is a big reason why we're engaging this broad coalition and expanding it even more. We want people to see that the transition to clean energy isn't about sacrifice, it's going to grow jobs, provide families with a less expensive way to get electricity, and keep our kids healthy, and our world safe. It's not about red and blue states, it's about the United States of America. I want to make sure people everywhere understand these benefits and that we move at an accelerated pace to access them.
We need to show people the change that's happening in their communities, the vehicles that will save them money, and the technology like heat pumps and solar that will save their families money. We have to show them, not just talk about the benefits that are already accruing from the IRA and BIL, and CHIPS. We have to make it personal. They have to see that a better future is possible. That's what I hope to do with America Is All In and why I'm excited to join this coalition.
We're headed into the big institutional time – UN General Assembly, Climate Week and then COP28. What are the things you're paying the most attention to as these international events unfold?
As we celebrate the biggest climate investments the US has ever made and applaud all the additional investments by developed countries, we must also recognize that we can, should, and must do more now to reduce - and over time eliminate - our reliance on fossil fuels. We cannot solely rely on the fast buildup of clean energy if we hope to deliver net zero by 2050. We must demand reductions in fossil fuel exploration, development, and use now to ensure the transition to a cleaner, safer, healthier, and more stable world for all countries.
And it is time for all of us to stop turning a blind eye to the developing world when it continues to be hit by climate impacts first and worst, We need to nudge fossil fuels out of domestic and international markets and shift to energy systems that meet the needs of developing countries at lower costs while delivering stronger economies and cleaner air to breathe. We must push for public sector resources that match or exceed country-level commitments already made to the developing world. We must entice more private sector investment in climate and clean energy into the developing world.  
What does being "all in on climate" mean to you?
It means getting everyone engaged, involved and informed about the funding that's available for consumers, businesses, tribal nations, cities, states, and more. It's about making sure the IRA is implemented and that we turbocharge our transition to clean energy. That's what All In is about - building a coalition of actors that will make change happen. Not sitting on the sidelines to see what the feds do next, but pushing and prodding for more. That is what democracy is all about.