Gina McCarthy Joins America Is All In As Managing Co-Chair Ahead of Inflation Reduction Act Anniversary
One year after the biggest climate investment in American history became law, the former White House national climate advisor joins the largest coalition of U.S. leaders assembled to supercharge action at all levels across the country.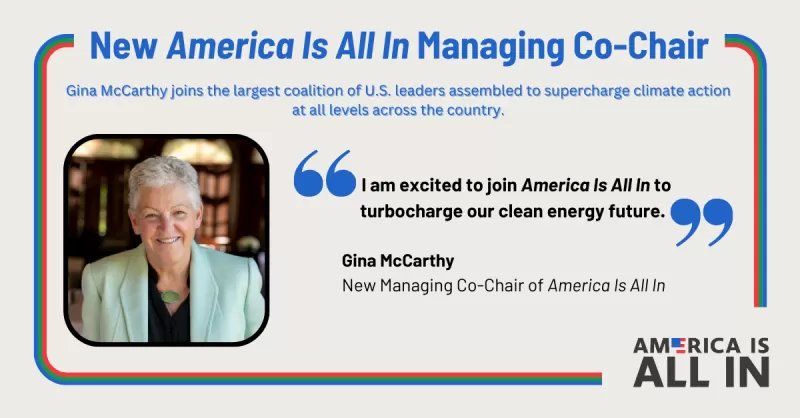 Washington, DC – August 10, 2023 – Today, America is All In celebrates the appointment of Gina McCarthy as Managing Co-Chair of America Is All In. Starting immediately, Ms. McCarthy will serve as a strategic advisor for the coalition in order to support cities, states, businesses and institutions to scale climate action across the country. 
As the first White House National Climate Advisor and 13th U.S. Environmental Protection Agency (EPA) Administrator, McCarthy is a formidable voice on environmental policy and was the key architect of President Biden and Obama's climate strategies to reduce pollution and foster economic growth across the country. As head of the Climate Policy Office under President Biden, McCarthy's leadership led to the most aggressive action on climate in U.S. history, creating new jobs and unprecedented clean energy innovation, spurring investments across the country and passing the Inflation Reduction Act (IRA).
"I firmly believe that working together, a better future is not only possible, it's already happening.  All you have to do is look around at city governments, businesses, and nonprofits tapping into funding from the Inflation Reduction Act that's making our transition to a clean energy economy possible," said Gina McCarthy, Managing Co-Chair of America Is All In. "I am excited to join America Is All In to turbocharge our clean energy future. We're going to ensure that we don't miss out on this once-in-a-generation opportunity to grow good paying jobs, improve air quality, make our communities more resilient, and save families money so our kids and grandkids can grow up in a stronger, safer and healthier country."
One year on, the historic IRA is proving to be transformative. Companies have announced or moved forward with projects in 44 states, accounting for more than 170,600 new clean energy jobs and $278 billion in new investments. Under current policies, the U.S. will reach 39% emission reductions by 2030, according to America Is All In's Beyond 50 analysis. To further accelerate climate action and reach our goal of 50-52% emission cuts, the federal government must work in partnership with cities, states, businesses, and institutions.
Significant clean energy tax credits are available for cities, states, and businesses. McCarthy's appointment will help ensure that America Is All In can continue to educate, organize, and spur members across the country to use federal resources and boost non-federal actions and policies for an all of society approach to climate change mitigation. Last month, McCarthy joined America Is All In's Cash In On Clean Energy Tour, and in the weeks to come, she will travel to Orlando, FL and Columbus, OH to work with local businesses, schools, organizations, and individuals to access the numerous clean energy financing incentives and credits in the IRA. 
Following Ms. McCarthy's appointment, America Is All In Co-Chairs issued the following statements:
Michael R. Bloomberg, UN Secretary-General's Special Envoy on Climate Ambition and Solutions and founder of Bloomberg LP and Bloomberg Philanthropies, said: "For more than three decades, Gina has been helping to lead the fight for a cleaner, greener, and healthier future for our country and our world. She has been a steadfast champion for the cities, states, businesses, and institutions that are working to cut emissions, create new jobs, and grow the economy from the bottom up. Bloomberg Philanthropies has been glad to call her a close partner in our work fighting climate change, and we're looking forward to building on the progress we've made together through Gina's new role as managing co-chair of America Is All In."
Washington Governor Jay Inslee said: "Gina's appointment marks an exciting next step in America Is All In's efforts, and comes at a time of dire urgency in the global fight against climate change. Few have done more to support U.S. states' efforts to cut their emissions, and I'm eager to work together to amplify and further accelerate and amplify state-level climate action."
Charlotte Mayor Vi Lyles said: "The incomparable climate experience that Gina brings to our coalition will have far reaching impacts on how the U.S. can reach our 2030 goals and bring us closer to ensuring that together state leaders, businesses, and national government are going all in on climate change action. I am excited to work with her and the rest of our members to continue to deploy the IRA's initiatives, harness local and city level action and be aggressive in our fight for a clean energy future." 
Before joining the Biden administration in her advisory position, McCarthy was President and CEO of the Natural Resources Defense Council (NRDC), one of the nation's largest and most influential environmental advocacy organizations. Prior to NRDC, she was a Professor of the Practice of Public Health in the Department of Environmental Health at Harvard T.H. Chan School of Public Health where she served as the Director of the Center for Climate, Health, and the Global Environment. She was also a fellow at the Harvard Kennedy School of Government. From 2013–2017, McCarthy was the Administrator of the U.S. EPA under President Obama and engaged in efforts leading to the adoption of the Paris Climate Agreement.
                                                                                          ### 
About America Is All In
America Is All In is the most expansive coalition of leaders ever assembled in support of climate action in the United States. Mobilizing thousands of U.S. cities, states, tribal nations, businesses, schools, and faith, health, and cultural institutions, the coalition is focused on pushing and partnering with the federal government to develop an ambitious, all-in national climate strategy that meets the urgency of the climate crisis; scaling climate action around the country to accelerate the transition to a 100 percent clean energy economy; and promoting the leadership of non-federal actors on the world stage.
Led by the U.N. Secretary General's Special Envoy on Climate Ambition and Solutions Michael R. Bloomberg, Washington Governor Jay Inslee, and Charlotte Mayor Vi Lyles, America Is All In is driving a nationwide movement to cut U.S. emissions in half or more by 2030 from 2005 levels and reach net zero emissions by 2050, while guarding against the impacts of climate disruption.
Alongside whole-of-government action on climate, America Is All In champions a whole-of-society mobilization to deliver the transformational change that science demands, with the goal of a healthy, prosperous, equitable, and sustainable future. To learn more or get involved, visit www.americaisallin.com and follow us on Twitter and LinkedIn.
About Bloomberg Philanthropies
Bloomberg Philanthropies invests in 700 cities and 150 countries around the world to ensure better, longer lives for the greatest number of people. The organization focuses on five key areas for creating lasting change: the Arts, Education, Environment, Government Innovation, and Public Health. Bloomberg Philanthropies encompasses all of Michael R. Bloomberg's giving, including his foundation, corporate, and personal philanthropy as well as Bloomberg Associates, a pro bono consultancy that works in cities around the world. In 2022, Bloomberg Philanthropies distributed $1.7 billion. For more information, please visit bloomberg.org, sign up for our newsletter, or follow us on Facebook, Instagram, YouTube, Twitter, and LinkedIn.
                                                                                            ### 
MEDIA CONTACTS:
Andrew Overton
America Is All In
[email protected]