Colorado's Newest Buildings Can Speed the EV Revolution
State officials can ensure cleaner, more affordable places to live and work
By Jasmine Chiu and Hannah Perkins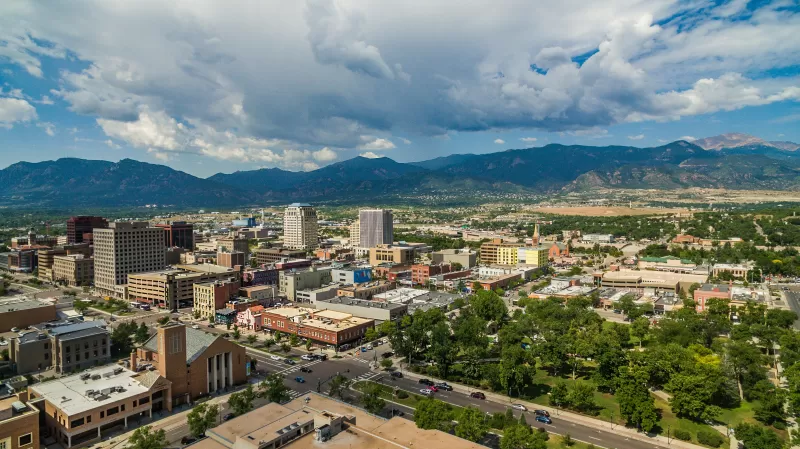 In their fight against climate change, Colorado leaders are considering every tool they have at their disposal, including some that might surprise you. Although buildings are major energy users and significant sources of pollution, the codes that guide their construction and upgrades aren't often at the top of mind when it comes to climate action. 
This month, the Colorado Energy Code Board will vote on a new statewide building code. Depending on how far the Board decides to go, the new code could lay the foundation for the next generation of clean, efficient buildings that are equipped to support an electrified future.
"Codifying building sustainability can help reinforce some of the essential progress being made across sectors in Colorado," said Mike Nathan, sustainability manager at Arapahoe Basin Ski Area. "A-Basin wants Colorado to remain at the forefront of innovation in building performance and to continue leading the charge on electric vehicle adoption," said Nathan. "Updating building codes seems like a great place to continue that exemplary work statewide."
Keeping up with EV momentum
As it seeks to slash transportation pollution and meet its ambitious climate goals, Colorado has turned its attention to accelerating the adoption of electric vehicles. Governor Jared Polis has called for nearly one million light-duty electric vehicles on the roads by 2030. Even more are needed (around 1.5 million light-duty EVs) to reach Colorado's target of reducing greenhouse gas emissions 50 percent by 2030, as outlined by the state GHG Roadmap. 
EV sales already account for more than 10 percent of total vehicle sales in Colorado; and with new federal incentives, like those contained in the Inflation Reduction Act, as well as state incentives, that share is likely to increase in the coming years. 
In order to accommodate this influx of EVs, however, the state has to scale up its charging infrastructure. An International Council on Clean Transportation report estimates that over 25,000 chargers will need to be installed for every million EVs. Here's where the new building code can help.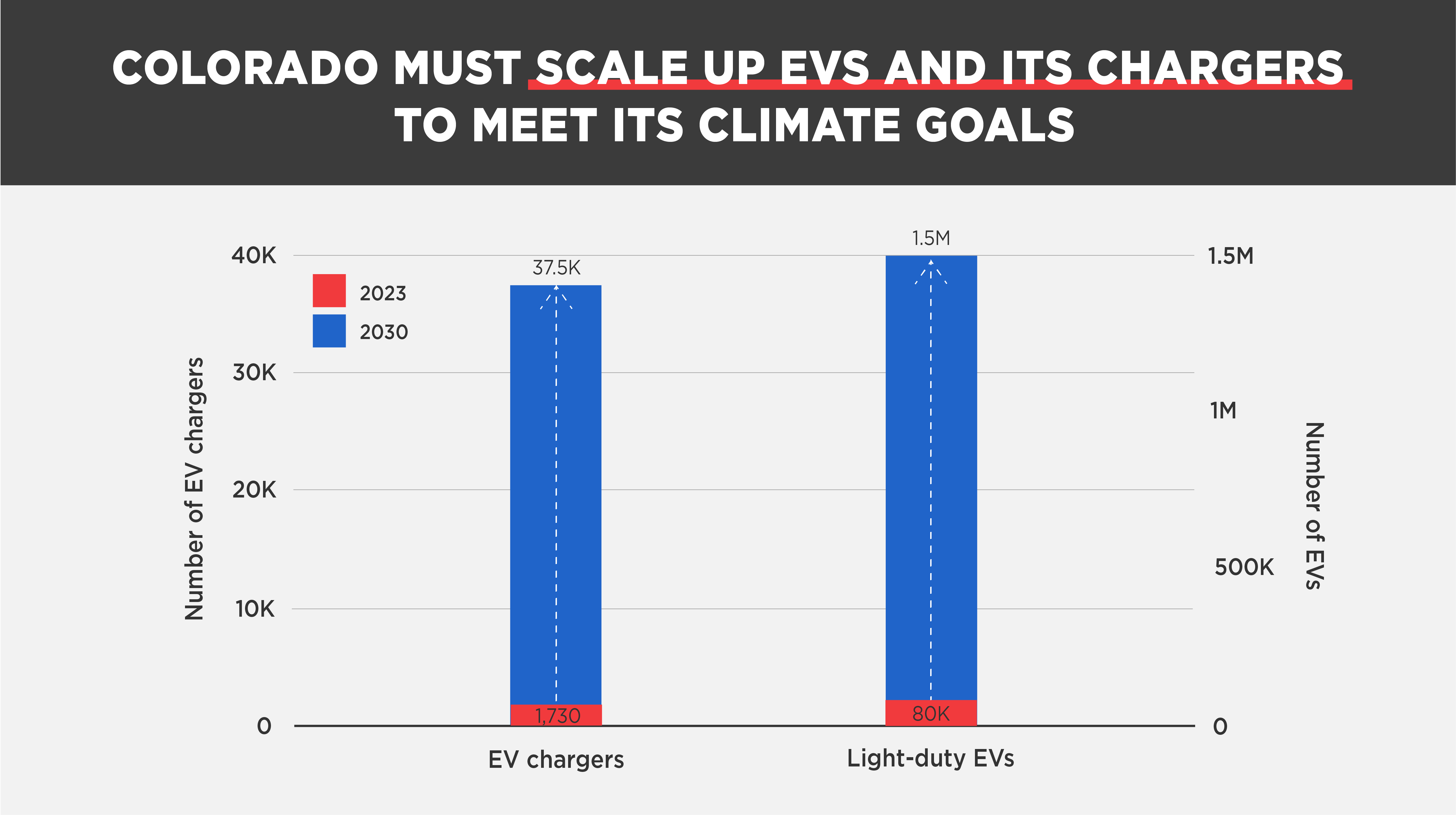 Legislation requires the state Energy Code Board to set a model EV-ready building code. This code would stipulate that, at a minimum, all new buildings across the state are wired for EV charging and that a certain number of parking spaces at larger commercial and multifamily buildings have EV infrastructure and chargers in place. The Board could also go further, requiring a higher percentage of total parking spaces be equipped with EV infrastructure or prioritizing a more complete level of EV infrastructure.
The standards the Board decides to implement will have a major impact on the rate and scale of adoption of EVs in Colorado. 
An ounce of EV readiness is worth a pound of retrofits
Like the saying goes, it's far more efficient and cost-effective to address issues at the beginning rather than go back and fix them later. This is especially true when it comes to EV readiness: it's significantly cheaper to wire new buildings for EVs upfront than to retrofit existing buildings for this infrastructure later.
 
According to an RMI meta-analysis, it costs three times more to retrofit buildings for EV readiness than to incorporate it into new construction. The chart below shows the estimated costs of EV readiness per parking space for multifamily buildings.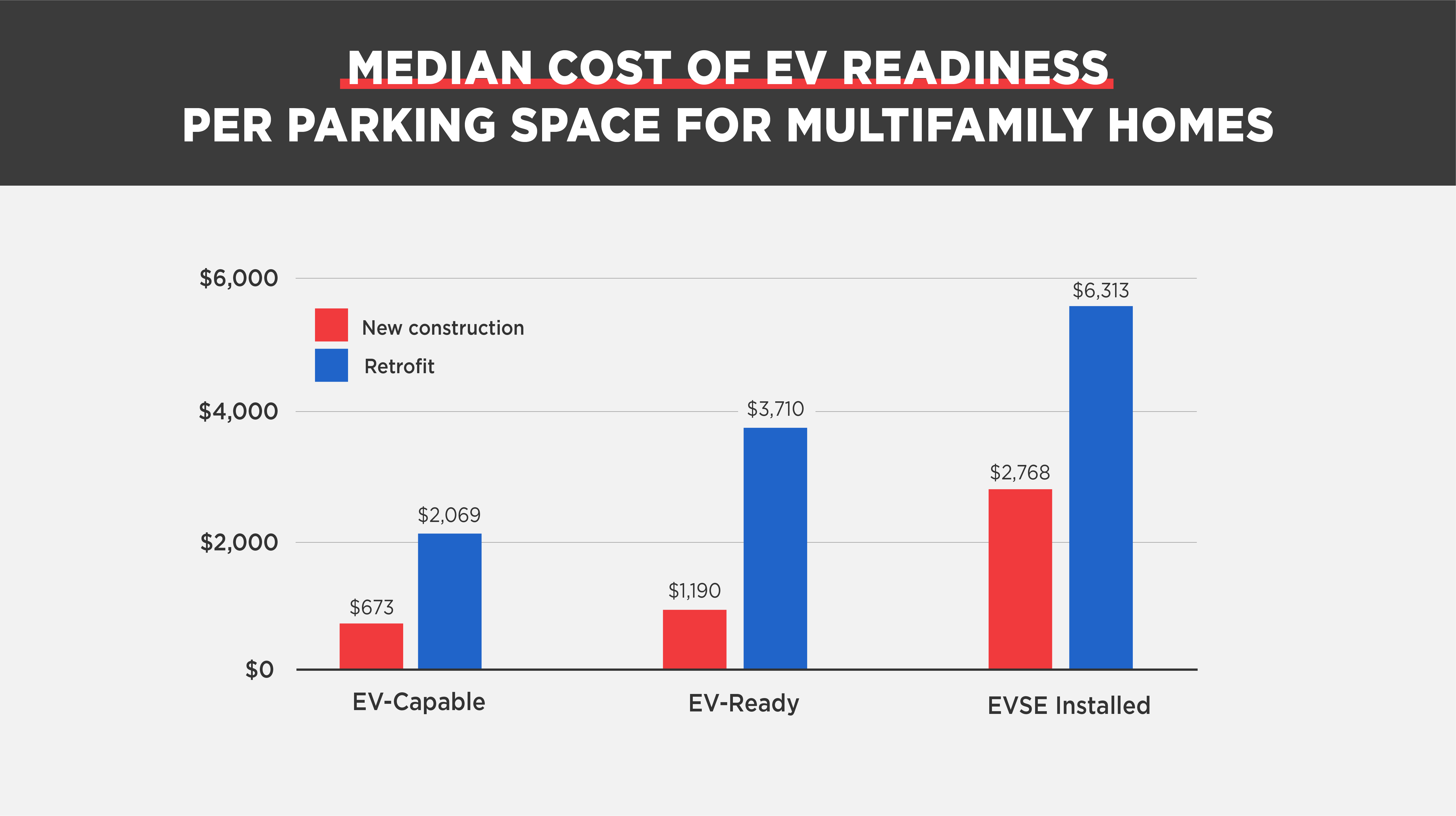 If the state passes more stringent clean vehicle standards later this year as planned, it would require 82 percent of vehicles sold to be electric by 2032. This means most new buildings will need to charge an electric vehicle at some point. Making a building EV ready can unlock a number of additional benefits for building owners such as tax incentives, expedited building permits, and more, depending on the locality. It is an attractive amenity for residents and can increase property values. Of the public comments submitted thus far that reference EVs, 100 percent are in favor of a code that requires EV readiness in new buildings, sending a clear signal that this infrastructure is needed.
"A-Basin feels strongly that sustainability, energy efficiency, and climate resiliency all need to be prominent features in any Colorado building code developments," said Nathan. "Particularly when it comes to EV readiness, renewables and electrification, companies like A-Basin see these design features as crucial to us operating the modern, healthy, safe and efficient buildings we need to run the ski area." 
Clean, healthy buildings are the future
Along with the shift toward electric vehicles, states need to transition to modern, electric appliances to address the climate and health impacts of burning fossil fuels in buildings. To catalyze building electrification and truly advance Colorado's climate goals, the Board could also vote to include an all-electric appendix in the building code, which gives localities the option to adopt all-electric construction requirements. 
Across the US, over 100 municipalities and eleven states have enacted policies that require or encourage building electrification and, as of last year, more American households use electricity for heating than gas. Due to its construction boom and ambitious climate targets, Colorado ranks in the top three in terms of states with the most to gain from updating building energy codes, according to a recent analysis by the American Council for an Energy-Efficient Economy.
Along with the climate benefits, all-electric building codes are a smart business decision. RMI analysis found that new, all-electric homes were cheaper to build and operate in all cities evaluated, including Denver. Eliminating fossil fuel-burning appliances also improves air quality and residents' health. 
"PSR Colorado's medical professionals are committed to a healthy climate future where no one is sickened by fossil fuel pollution, particularly inside their own homes," said Lauren Swain, outreach manager for Physicians for Social Responsibility's Colorado chapter. "Colorado's Energy Board must free residents of new homes from dependence on hazardous fossil fuels for heating, cooking, and transportation."
Building energy codes are put in place to plan for the future; they set the standard for new buildings that will last decades. With Colorado's ambitious goals to cut emissions across all sectors, forward-looking building codes play an important role in ensuring the built environment is part of the climate solution, not an obstacle.

The state Energy Code Board will meet on March 28 at 11am MT to hear oral comments on the new statewide code. Interested residents can join and comment virtually. Written comments can be submitted here. The Board will gather again on March 31 for a final vote.