Apple's Lisa Jackson Joins America Is All In As Newest Co-Chair
Apple Vice President of Environment, Policy and Social Initiatives joins the largest coalition of U.S. leaders ever assembled to supercharge climate action at all levels across the country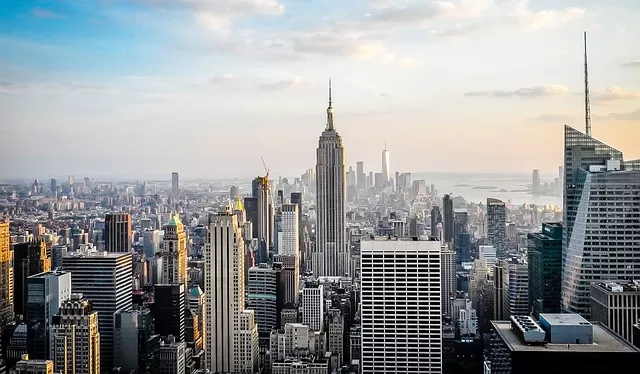 New York, NY – September 21, 2023 – Today, America is All In announced the appointment of Lisa Jackson as Co-Chair of America Is All In at a Climate Week NYC event co-hosted by The NEST Climate Campus and presented by the World Wildlife Fund. A longtime climate champion in the public and private sectors, Ms. Jackson will now champion a whole-of-society approach to climate action and help the coalition's cities, states, businesses and institutions increase their ambition and deliver transformational change.
Lisa Jackson served as the administrator of the U.S. Environmental Protection Agency (EPA) under President Obama from 2009 to 2013, and before that served as Commissioner of the New Jersey Department of Environmental Protection. Now, as Apple's Vice President of Environment, Policy and Social Initiatives, she drives the company's efforts to build a greener future through expansion of renewable energy, increasing energy efficiency, and improving conservation of resources. She also serves as the board chair of the Waverley Street Foundation which focuses on advancing equitable climate solutions for people and communities who face the worst impacts of climate change.
"Climate change impacts us all, so climate action takes all of us—acting with urgency, from every corner—to build a better future for people and the planet," said Lisa Jackson, Co-Chair of America Is All In. "I'm honored to join so many leaders who are all in on that mission, determined to meet this generational challenge with vision and values. We have work to do, obstacles to overcome, and timelines to meet—and we'll do all of it together." 
Ms. Jackson joins a team of co-chairs with experience leading on climate action from every level of government – city, state, and national. Following her appointment, the other America Is All In Co-Chairs issued the following statements:
Managing Co-Chair Gina McCarthy said: "I am absolutely thrilled that my good friend and colleague Lisa Jackson is joining the America Is All In team. With Lisa on board, we have an all-star lineup of climate leaders with the skills and know-how to make change happen at every level. Together, we will turbocharge this country's transition to clean energy, helping businesses, local organizations, cities, and states access the tools they need to deliver our U.S. climate goals, grow the economy, and create a healthier and more just future for all Americans."
Michael R. Bloomberg, UN Secretary-General's Special Envoy on Climate Ambition and Solutions and founder of Bloomberg LP and Bloomberg Philanthropies, said: "Lisa understands that partnership between the public and private sector is key to tackling climate change. Her wealth of knowledge and experience in both sectors will help us accelerate the encouraging progress America Is All In has been making across the country."
Washington Governor Jay Inslee said: "Lisa is an exciting addition to the leadership of America Is All In. With a proven track record in the state of New Jersey, in the Obama administration, and in the private sector, Lisa will help galvanize the diverse membership of this coalition for bigger and bolder action." 
Charlotte Mayor Vi Lyles said: "Lisa's leadership and support will be a wonderful addition to our co-chairs as we work to expand our climate efforts across all sectors of our society. She brings a deep understanding of climate action at different levels of government and the private sector and will be a powerful voice to spearhead new and innovative strategies to address the climate crisis." 
                                                                                          ### 
About America Is All In
America Is All In is the most expansive coalition of leaders ever assembled in support of climate action in the United States. Mobilizing thousands of U.S. cities, states, tribal nations, businesses, schools, and faith, health, and cultural institutions, the coalition is focused on pushing and partnering with the federal government to develop an ambitious, all-in national climate strategy that meets the urgency of the climate crisis; scaling climate action around the country to accelerate the transition to a 100 percent clean energy economy; and promoting the leadership of non-federal actors on the world stage.
Led by the U.N. Secretary General's Special Envoy on Climate Ambition and Solutions Michael R. Bloomberg, Washington Governor Jay Inslee, Charlotte Mayor Vi Lyles, and  former White House national climate advisor Gina McCarthy, America Is All In is driving a nationwide movement to cut U.S. emissions in half or more by 2030 from 2005 levels and reach net zero emissions by 2050, while guarding against the impacts of climate disruption.
Alongside whole-of-government action on climate, America Is All In champions a whole-of-society mobilization to deliver the transformational change that science demands, with the goal of a healthy, prosperous, equitable, and sustainable future. To learn more or get involved, visit www.americaisallin.com and follow us on Twitter and LinkedIn.
About Bloomberg Philanthropies
Bloomberg Philanthropies invests in 700 cities and 150 countries around the world to ensure better, longer lives for the greatest number of people. The organization focuses on five key areas for creating lasting change: the Arts, Education, Environment, Government Innovation, and Public Health. Bloomberg Philanthropies encompasses all of Michael R. Bloomberg's giving, including his foundation, corporate, and personal philanthropy as well as Bloomberg Associates, a pro bono consultancy that works in cities around the world. In 2022, Bloomberg Philanthropies distributed $1.7 billion. For more information, please visit bloomberg.org, sign up for our newsletter, or follow us on Facebook, Instagram, YouTube, Twitter, and LinkedIn.
                                                                                            ### 
MEDIA CONTACTS:
Andrew Overton
America Is All In
[email protected]