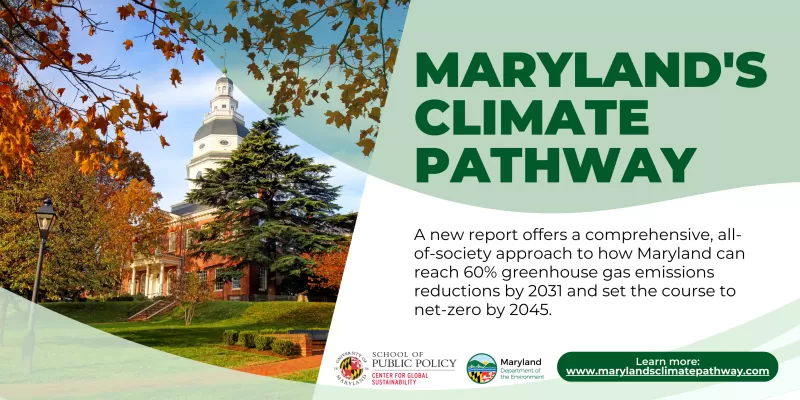 An all-of-society climate strategy can enable the United States to meet its 2030 climate target and put it on a path to achieve its 2050 net-zero goal. National governments can set the table with policy and resources, but – as America Is All In's Beyond 50 analysis demonstrates – much of the real work of decarbonizing our economy will come from our state and local governments working alongside tribal nations, businesses, and cultural institutions. In that spirit, the State of Maryland has set the most aggressive climate goals in the country: 60% emissions reductions by 2031 and net-zero by 2045.
Today, with the help of the Center for Global Sustainability at the University of Maryland, Governor Wes Moore and the Maryland Department for the Environment announced a new all-of-society pathway to reach Maryland's ambitious climate goals and realize the many health benefits and significant job growth that a clean energy economy brings, including improved air quality and new jobs. 
With Maryland's Climate Pathway, the Free State is going "all in" by modeling a plan for every part of society – the state, cities, municipalities, businesses, and other institutions – to reach Maryland's climate goals and transition to a sustainable and low-carbon economy. 
Following the release of today's report, Maryland's Climate Pathway, America Is All In Co-Chairs issued the following statements:
Michael R. Bloomberg, UN Secretary-General's Special Envoy on Climate Ambition and Solutions and founder of Bloomberg LP and Bloomberg Philanthropies, said: "Tackling climate change requires an all-of-society approach, and state governments have an important role to play in accelerating the clean energy transition. Governor Wes Moore's bold plan to put Maryland on course to a net-zero economy will strengthen public health, create jobs, lower energy bills, and help America honor its commitments under the Paris Climate Agreement." 
Washington Governor Jay Inslee said: "You wouldn't start a road trip without a GPS. Similarly, states can't reach net-zero without a roadmap. Governor Moore is joining the growing chorus of governors that are leading the climate fight by adopting an all-of-society approach cutting emissions. Here in Washington state we are proud to cheer on his administration's efforts, and I hope to see more state leaders advance ambitious climate policies that enable local municipalities and businesses to realize the numerous climate benefits."
Charlotte Mayor Vi Lyles said: "This pioneering "all in" pathway makes it clear that state-wide climate goals cannot be reached without additional action from and partnership with cities, counties, and local jurisdictions. Only together, with an all-of society strategy, can we reach our climate goals and leave a better world for the next generation."  
                                                                                          ### 
About America Is All In
America Is All In is the most expansive coalition of leaders ever assembled in support of climate action in the United States. Mobilizing thousands of U.S. cities, states, tribal nations, businesses, schools, and faith, health, and cultural institutions, the coalition is focused on pushing and partnering with the federal government to develop an ambitious, all-in national climate strategy that meets the urgency of the climate crisis; scaling climate action around the country to accelerate the transition to a 100 percent clean energy economy; and promoting the leadership of non-federal actors on the world stage.
Led by the U.N. Secretary General's Special Envoy on Climate Ambition and Solutions Michael R. Bloomberg, Washington Governor Jay Inslee, and Charlotte Mayor Vi Lyles, America Is All In is driving a nationwide movement to cut U.S. emissions in half or more by 2030 from 2005 levels and reach net zero emissions by 2050, while guarding against the impacts of climate disruption.
Alongside whole-of-government action on climate, America Is All In champions a whole-of-society mobilization to deliver the transformational change that science demands, with the goal of a healthy, prosperous, equitable, and sustainable future. To learn more or get involved, visit www.americaisallin.com and follow us on Twitter and LinkedIn.

About Bloomberg Philanthropies
Bloomberg Philanthropies invests in 700 cities and 150 countries around the world to ensure better, longer lives for the greatest number of people. The organization focuses on five key areas for creating lasting change: the Arts, Education, Environment, Government Innovation, and Public Health. Bloomberg Philanthropies encompasses all of Michael R. Bloomberg's giving, including his foundation, corporate, and personal philanthropy as well as Bloomberg Associates, a pro bono consultancy that works in cities around the world. In 2022, Bloomberg Philanthropies distributed $1.7 billion. For more information, please visit bloomberg.org, sign up for our newsletter, or follow us on Facebook, Instagram, YouTube, Twitter, and LinkedIn.
                                                                                            ### 
MEDIA CONTACTS:
Andrew Overton
America Is All In
[email protected]