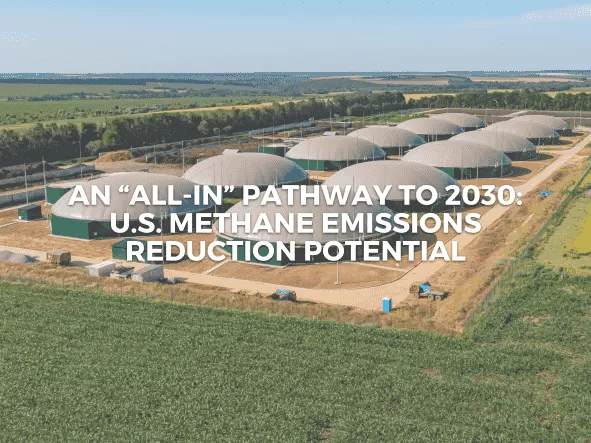 "AMERICA IS ALL IN" REPORT UNVEILS AMBITIOUS PATHWAY TO SLASH METHANE EMISSIONS AT LEAST 30% BY 2030 AND SUPPORT GLOBAL METHANE PLEDGE
The Inflation Reduction Act Provisions Can Cut U.S. Methane Emissions by up to 19%
Robust Climate Action From Cities, States, Businesses, and Other Institutions and Continued Federal Regulatory Actions Needed to Meet 2030 Methane Goals 
WASHINGTON D.C. & NEW YORK – Today, America Is All In – in an analysis led by the University of Maryland's Center for Global Sustainability – released a report detailing a comprehensive policy pathway that would reduce methane emissions in the United States by more than 30 percent below 2020 levels by 2030. The report, titled "An 'All-In' Pathway to 2030: U.S. Methane Emissions Reduction Potential" includes a thorough analysis of methane emissions by sector and demonstrates how an all-of-society approach provides a path to curtailing the potent greenhouse gas. 
This analysis – the first-ever done exclusively on methane – shows that ambitious yet feasible bottom-up actions by cities, states, tribal nations, companies, and other institutions can achieve nearly half of the total emissions reductions needed and also support a pathway to reach the United States' climate commitment to cut emissions 50 to 52 percent below 2005 levels by 2030.
"Rapidly cutting methane emissions is essential if we're going to prevent the worst impacts of climate change," said Michael R. Bloomberg, the U.N. Secretary-General's Special Envoy on Climate Ambition and Solutions, America Is All In Co-Chair, and Founder of Bloomberg Philanthropies. "Provisions in the new federal climate bill will take us a big step in the right direction by taking aim at methane, but we need to do more, faster. This report outlines how we can do it, with cities, states, businesses, and local communities helping to lead the way."
Methane is a global warming pollutant 84 times more potent than carbon dioxide in the near-term and has become an increasingly critical component in meeting the U.S. economy-wide emissions reduction target (NDC). Recognizing this, the United States recently joined over 100 other countries in the Global Methane Pledge to reduce methane emissions collectively by 30 percent below 2020 levels by 2030. 
The Inflation Reduction Act – a central piece of this All-In strategy – is an important first step to tackling methane emissions and will send a clear market signal to the energy sector. The bill that President Biden signed into law earlier this month contains two critical elements of this all-in approach to methane: 1) a methane fee of $1500/1CH4 on oil and gas and 2) $1.5 billion in funding for the oil and gas industry to reduce methane emissions. By putting a price on methane and helping the oil and gas industry reduce its emissions, the federal government has given more certainty to markets. 
However, without the critical action from all of society highlighted in this analysis, it is estimated that the Inflation Reduction Act will only cut methane emissions 6 to 19 percent by 2030. This underlines the role of cities, states, and businesses in delivering on our methane and overall climate goals. Far more aggressive action is needed from Congress, the Executive Branch, and local leaders to reach reductions of 30 percent or more–particularly in the energy and agriculture sectors, which together are responsible for three quarters of methane emissions.
"Meeting the Global Methane Pledge — and more broadly, helping get the world onto a pathway compatible with limiting global temperature rise to 1.5 degrees Celsius – will require all countries to step up, identify methane sources, and reduce them rapidly through specific technologies and policies. This analysis shows that the United States could do our part to deliver high methane reductions of 30% or more by 2030," said Prof. Nate Hultman, the corresponding author for the report and Director of the Center for Global Sustainability at the University of Maryland. "The federal methane fee in the Inflation Reduction Act is incredibly helpful to drive methane emissions reductions in the energy sector in particular. In other sectors such as agriculture and waste, there are also already great steps being taken by cities, states and private companies, and the report also shows how expanded work by these leaders and from other federal actions can enable us to deliver big on this methane opportunity." 
The report outlines a policy pathway that when combined with elements of the Inflation Reduction Act can realize immediate economy-wide reductions at all levels. Key actions that cities, states, tribal nations, companies, and other institutions can take to achieve the All-In reduction potential and implement federal programing include: 
Enhanced regulations on oil and gas facilities - allows states to design their own rules to require leak detection and repair systems, and limit methane venting and flaring. 
Improving emissions monitoring and accounting - allows states, cities and businesses to improve monitoring efforts, which currently underestimate methane emissions. 
Accelerating research and development in agricultural abatement strategies - allows states, cities and businesses to encourage environmentally-friendly practices and generate additional funding and research capacity for innovative technologies, such as anaerobic digesters and feedstock additives. 
Investing in waste infrastructure - enables states and cities to collect, process, and treat waste in order to divert waste and capture methane emissions from landfills.
It is clear that expanded methane emissions reductions are an essential element of delivering on the U.S. 2030 climate target.  Such actions will moreover provide immediate health and food security benefits for the American people—avoiding premature deaths and emergency room visits associated with cardio-pulmonary diseases and increasing staple crop yields and vegetation quality.
"Slashing methane emissions brings us closer to our national climate goals and also provides a tremendous impact on human health," said Houston Mayor Sylvester Turner. "In Houston, methane emissions directly impact the air quality of our residents. Cities and states across the country need to take action and go all-in on methane emission reductions to achieve a better quality of life for our communities and a safe, livable planet."
By combining federal policy with action from cities, states, tribal nations, companies, and other institutions to take an all-of-society approach, a 30 percent cut in methane emissions by 2030 is well within our reach. To read the report and find out more about the sector-specific reductions needed, please visit http://bit.ly/3cmKbmo.
###
About America Is All In
America Is All In is the most expansive coalition of leaders ever assembled in support of climate action in the United States. Mobilizing thousands of U.S. cities, states, tribal nations, businesses, schools, and faith, health, and cultural institutions, the coalition is focused on pushing and partnering with the federal government to develop an ambitious, all-in national climate strategy that meets the urgency of the climate crisis; scaling climate action around the country to accelerate the transition to a 100 percent clean energy economy; and promoting the leadership of non-federal actors on the world stage.
Led by the U.N. Secretary General's Special Envoy for Climate Ambition and Solutions Michael R. Bloomberg, Washington Governor Jay Inslee, and Charlotte Mayor Vi Lyles, America Is All In is driving a nationwide movement to cut U.S. emissions in half or more by 2030 from 2005 levels and reach net zero emissions by 2050, while guarding against the impacts of climate disruption.
Alongside whole-of-government action on climate, America Is All In champions a whole-of-society mobilization to deliver the transformational change that science demands, with the goal of a healthy, prosperous, equitable, and sustainable future. To learn more or get involved, visit www.americaisallin.com and follow us on Twitter @americaisallin. 
About Bloomberg Philanthropies
Bloomberg Philanthropies invests in 941 cities and 173 countries around the world to ensure better, longer lives for the greatest number of people. The organization focuses on five key areas for creating lasting change: the Arts, Education, Environment, Government Innovation, and Public Health. Bloomberg Philanthropies encompasses all of Michael R. Bloomberg's giving, including his foundation, corporate, and personal philanthropy as well as Bloomberg Associates, a pro bono consultancy that works in cities around the world. In 2021, Bloomberg Philanthropies distributed $1.66 billion. For more information, please visit bloomberg.org or follow us on Facebook, Instagram, YouTube, Twitter and, LinkedIn.
About the Center for Global Sustainability (CGS)
Through world-leading research and policy engagement, the Center for Global Sustainability at the University of Maryland seeks to change the way that governments, businesses, and people see possibilities for ambitious climate action. Founded in 2016 in response to the need for research and thought leadership, analysis, and engagement to support the achievement of global climate goals, its programs advance understanding to support ambitious national and subnational climate strategies, fossil phase-out, energy innovation, finance, and other priorities in the United States, China, Indonesia, India, Brazil, and other major economies. CGS works with a rich community of collaborators around the world. CGS is housed within the University of Maryland School of Public Policy. Learn more at cgs.umd.edu.