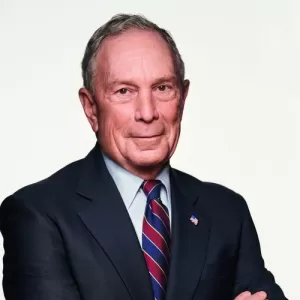 Michael R. Bloomberg
UN Secretary-General's Special Envoy for Climate Ambition and Solutions; Founder of Bloomberg LP and Bloomberg Philanthropies
Michael R. Bloomberg is an entrepreneur and three-term Mayor of New York City whose innovations in government and philanthropy have made him a global leader on climate change, public health, education, and other critical issues facing America and the world. Throughout his career, he has been strongly committed to giving back through Bloomberg Philanthropies, which employs a unique, data-driven approach to its core focus areas: the Arts, Education, the Environment, Public Health, Government Innovation, and the Greenwood Initiative, which aims to accelerate the pace of wealth accumulation in Black communities and address systemic underinvestment in them. He has given away $14.4 billion so far, with $1.7 billion distributed in 2022 alone.
Bloomberg was elected mayor just weeks after the attacks of September 11, 2001, and, under his leadership, New York City rebounded faster and stronger than expected. His administration raised high school graduation rates by 42 percent, cut crime by a third, reduced the city's carbon footprint by 13 percent, banned smoking from bars and public parks, and increased life expectancy by three years. His economic policies, which supported entrepreneurs, small businesses, and emerging industries such as tech and bioscience, helped to create a record 400,000 new jobs. His administration invested more than $3 billion in the arts and cultural organizations, making New York City the largest funder of the arts in the country.
After leaving City Hall, he resumed leadership of Bloomberg L.P., the information technology start-up he launched in 1981 that revolutionized the investment industry and leveled the playing field for smaller firms. The company has grown from a one-room office into a global organization that employs some 20,000 people in 120 countries.
Bloomberg is one of America's most fearless and effective voices on urgent national and international issues, including climate change, gun violence, public health, and immigration reform. He serves as the UN Secretary-General's Special Envoy for Climate Ambition and Solutions, and as the WHO Ambassador for Noncommunicable Diseases and Injuries. The gun safety group he helped found, Everytown for Gun Safety, now has 10 million supporters and is the largest coalition of Americans fighting for common-sense gun laws. His partnership with the Sierra Club has retired more than two-thirds of the nation's coal-fired power plants, moving the country toward cleaner, cheaper energy – and he has expanded the fight against coal globally as well. He was also sworn in as chair of the U.S. Department of Defense's Defense Innovation Board, which provides strategic insights and recommendations on technology and innovation that help address national security priorities.
Bloomberg is co-author, with Carl Pope, of The New York Times bestseller Climate of Hope: How Cities, Businesses, and Citizens Can Save the Planet. Born in Boston and raised in Medford, Massachusetts, he graduated from Medford High School, earned a BS in electrical engineering from Johns Hopkins, and went on to earn an MBA from Harvard Business School. He lives in New York City.