New Colorado Building Energy Code Paves Way for More All-Electric Buildings, Widespread Use of EVs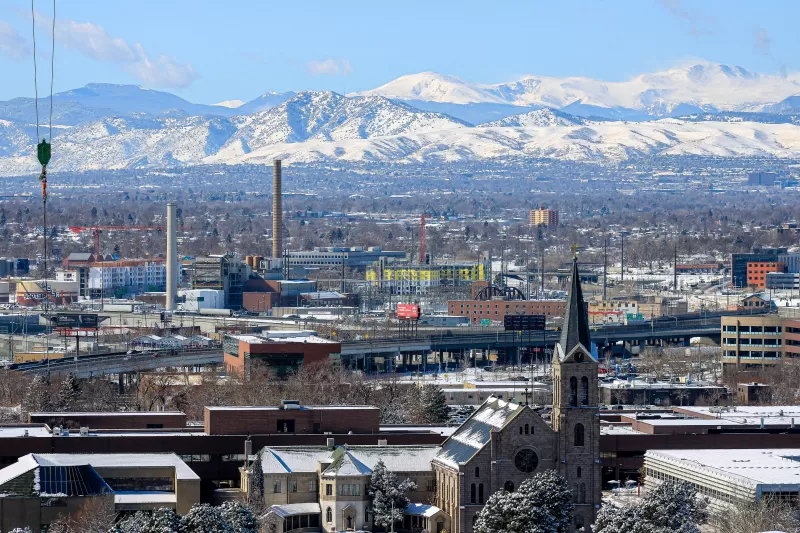 Contact: Hannah Perkins ([email protected]) and Jasmine Chiu ([email protected])
As winter gas heating bills have skyrocketed in Colorado, a transition to all-electric buildings lowers energy costs for homeowners and slashes climate pollution. 
The Colorado Energy Code Board voted today to approve a new statewide building code that marks another step forward in preparing for a widespread transition to electric vehicles, solar energy, and highly efficient, pollution-free building appliances like heat pumps and induction cooktops. The new code, which in turn will be adopted by local governments across the state, ensures that newly constructed homes and buildings will support these new technologies. As more homeowners and building owners install all-electric systems, Colorado will see improvements to public health, cleaner air, lower energy costs, and lower climate pollution.
This past winter, gas heating bills skyrocketed throughout Colorado, driving up costs and putting a major financial strain on household budgets. All-electric homes equipped with cold-climate heat pumps are a key solution for lowering energy usage, saving homeowners money on monthly bills, and reducing greenhouse gas emissions. The code requires new homes to be equipped with the proper wiring, outlets, and panel capacity for all-electric appliances and systems. The new minimum code language will be rolled out by local governments as they update their building codes over the next several years.
In addition to enabling pollution-free heating, water heating, and cooking, the new code ensures all new buildings across Colorado will be able to support future EV charging. The code language specifies that at least 60% of new parking spaces in large multifamily housing developments, defined as having more than 10 parking spaces, will have EV conduit installed. Certain allotments of those parking spaces will have greater levels of EV infrastructure, including chargers installed and ready for use. Charging in multifamily housing is particularly important since most charging will happen overnight at people's homes. For new large commercial buildings with more than 10 spaces, the code sets a minimum of 30% of all parking spaces that will at least have EV conduit installed; certain allotments of those spaces will have more comprehensive EV infrastructure. There is also flexibility to encourage fast chargers installed at commercial buildings, a critical option in public spaces. 
Colorado currently has 1,730 EV charging stations supporting approximately 80,000 EVs. To reach the state's climate goals, it must reach 1.5 million electric vehicles on the road by 2030 which will require almost 40,000 EV charging stations statewide, according to the International Council on Clean Transportation. The new energy code will help achieve this goal, while also avoiding unnecessary and expensive retrofit costs. It's three times more expensive to retrofit buildings to accommodate EV charging than to ensure they're EV-ready from the start, according to RMI.
The newly approved code also ensures that new buildings will have roof space suitable for installing solar panels, as well as the proper conduit and electrical panel space. 
Colorado is one of four states in the U.S. so far to adopt some version of statewide building electrification policies, joining California, Washington, and Maryland. California and Washington are the boldest of these, making heat pumps standard for new buildings. Colorado's new code, while not requiring heat pumps or other electric technologies, still enables a similar path for widespread heat pump, EV, and solar adoption.
In response to the board's vote to approve this groundbreaking policy, representatives from RMI, NRDC (Natural Resources Defense Council), Colorado Sierra Club, Physicians for Social Responsibility Colorado chapter, Rocky Mountain NAACP, and the Southwest Energy Efficiency Project provide these comments:
Portia Prescott, President, Rocky Mountain NAACP, said: "People of color are consistently exposed to higher levels of pollution. I'm tired of hearing family members ask me if the Xcel Energy bill will ever decrease from doubling this time last year. The time to take care of our residents, especially our low-income families, is now. Building electrification infrastructure will generate less volatile energy bills compared to fossil fuels. It is imperative that we provide the infrastructure that supports electric vehicles. We must address this public health and financial crisis that our communities are facing now."
Lauren Swain, Coordinator for Physicians for Social Responsibility Colorado, said: "Our health professionals are committed to a healthy climate future where no one is sickened by fossil fuel pollution, particularly in their own homes. This Colorado Energy Code will help residents have more options for cutting dependence on hazardous fossil fuels for heating, cooking, and transportation."
Alana Miller, Colorado Policy Director, NRDC, said: "If Colorado extends our clean cars rules as planned later this year, 82% of vehicles sold in Colorado by 2032 will be electric. The Energy Code Board's vote today helps ensure that the transition to electric vehicles is accessible and affordable for more people. Colorado is positioned to make considerable progress on climate, air quality, and transportation and energy affordability thanks to the Board's leadership."
Christine Brinker, Senior Buildings Policy Manager for the Southwest Energy Efficiency Project, said: "Throughout Colorado, local governments are stepping up and taking action to make new buildings in their communities cleaner, healthier, safer, more affordable, and more efficient. The Energy Code Board's vote will help more Colorado cities and counties join this much-needed transition to pollution-free buildings for all, by ensuring new homes and buildings at least have the right wiring, outlets, and other electric infrastructure to allow a switch to all-electric technologies in the future."
Jasmine Chiu, Senior Associate with RMI, said: "Coloradans have tremendous potential to help green the energy grid by installing rooftop solar, which also helps households save money on utility bills. Yet, too often homeowners are hamstrung by technical barriers like lack of suitable space on roofs, or inadequate infrastructure. The Energy Code Board's vote is an important step to addressing this problem and enabling households across Colorado to enjoy the benefits of rooftop solar."
Sarah Snead, Senior Campaign Representative for Colorado Building Decarbonization, Sierra Club, said: "The latest report from the top scientists at the U.N.'s Intergovernmental Panel on Climate Change is crystal clear - we must urgently expedite a just and equitable transition to clean energy. That transition is well underway in Colorado, and the new energy code will further accelerate it. Infrastructure planning is a vital tool to ensure the clean energy transition happens swiftly and doesn't create unnecessary and avoidable cost burdens as we decarbonize buildings and transportation in our state."  
RJ Harrington, SVP of Business Development at National Car Charging, said: "The new energy code will go a long way in preparing Colorado buildings to transition to electrification with provisions addressing rooftop solar arrays, electric heat pumps, induction stoves and sensible EV infrastructure in new multifamily housing developments and commercial buildings. In particular, making new buildings EV-ready will save a lot of money, because our experience shows that retrofitting existing buildings increases costs up to 60 percent. The Energy Code Board's future-focused energy code will benefit Coloradans and our climate. That's a commendable achievement."
Susan Nedell, Mountain West Advocate, E2 (Environmental Entrepreneurs), said: "The Energy Code Board's vote sets up Colorado to make the most of emerging clean energy technologies, kicking off huge cost savings and job creation opportunities in energy efficiency, electrical infrastructure, electric vehicles, and numerous other sectors for the state. Colorado's clean energy economy already employs over 60,000 workers, and this new statewide building code will help boost these numbers and provide Coloradans with quality good paying jobs while supporting a transition to clean energy that's good for residents, businesses, and the economy."
Dar-Lon Chang, Resident of Net-Zero Geos Neighborhood in Arvada, said: "Based on my personal experience living in an all-electric, net-zero neighborhood of 28 homes, I believe that the Energy Code Board's vote is key to freeing Coloradans from being locked into unhealthy and costly gas in their homes, public spaces, and vehicles, especially with an all-electric appendix which could be drafted in the coming months to help cities like Arvada facilitate more new gas-free neighborhoods like mine. The new energy code and all-electric appendix are needed currently to support Coloradans as they take action to meet science-based, state-legislated climate goals while providing their families healthier homes."
New Report:
COLORADO'S NEWEST BUILDINGS CAN SPEED THE EV REVOLUTION
State officials ensure cleaner, more affordable places to live and work. 
Read the Article