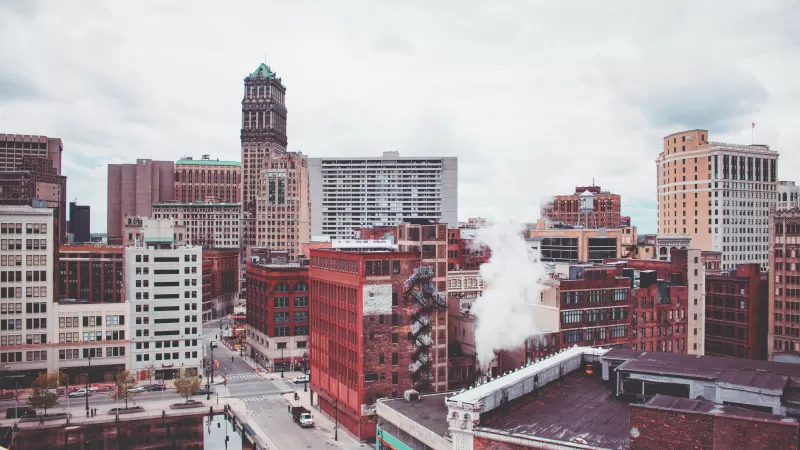 Michigan's elected officials are determined to take the state from laggard to leader on climate action – and fast. The state legislature is considering a highly ambitious goal of generating all of the state's electricity from solar, wind, or other carbon-free sources by 2035. If adopted, it would be one of the most aggressive decarbonization targets in the country. 
Gov. Gretchen Whitmer has voiced support for that proposal as she continues to make waves in other ways. Most recently, Whitmer and the 24 other bipartisan governors who comprise the US Climate Alliance announced their commitment to deploy 20 million heat pumps by 2030. With this announcement, they expect to quadruple the number of heat pumps operating nationally (there were roughly 4.8 million heat pumps operating in the US as of the most recent data). 
Buildings account for 17% of Michigan's overall carbon emissions, making them an essential component of any aggressive decarbonization plan. But a growing number of interests say the state needs to raise the bar when it comes to the codes that dictate construction of new buildings. A more ambitious building energy code can play a key role in cutting emissions, as well as improving air quality, boosting reliability, and reducing customers' energy costs.
"The building code should align with climate targets," said Brett Little, Education Manager with the Grand Rapids-based Green Home Institute. "We can't keep building homes that are burdening the grid and emitting carbon."
Building for the future
The current push to update Michigan's building energy code centers on adopting the 2021 International Energy Conservation Code (IECC), along with provisions to ensure new buildings are ready for EVs, solar panels, and other electric appliances. The 2021 IECC would provide 10.7% energy savings across all climate zones in Michigan, which translates into $327 of annual utility bill savings for the average household, according to the Department of Energy (DOE).
There is also money on the line for Michigan. The DOE recently announced $400 million in funding for states to adopt, implement, and enforce advanced building energy codes. The 2021 IECC is the minimum requirement to qualify and there's additional funding for states that choose to adopt net zero provisions or other more ambitious amendments. 
"That should be low-hanging fruit and there should be no excuses," said Little. "Especially if there's funding to help make the transition." 
With Michigan currently leading the Midwest in terms of clean energy jobs, the business community is also invested in improved building codes in order to continue creating employment opportunities, said Grace Michienzi, Senior Director of Policy at the Michigan Energy Innovation Business Council. The council supports roughly 160 advanced energy companies doing business in the state of Michigan and Michienzi said updated building codes are important to the growth of several types of businesses in the state. 
"More energy efficient building codes that are ready for electric vehicle chargers, heat pumps, batteries – those homes are not only supporting new and existing jobs in these industries, but they're saving consumers money," Michienzi said.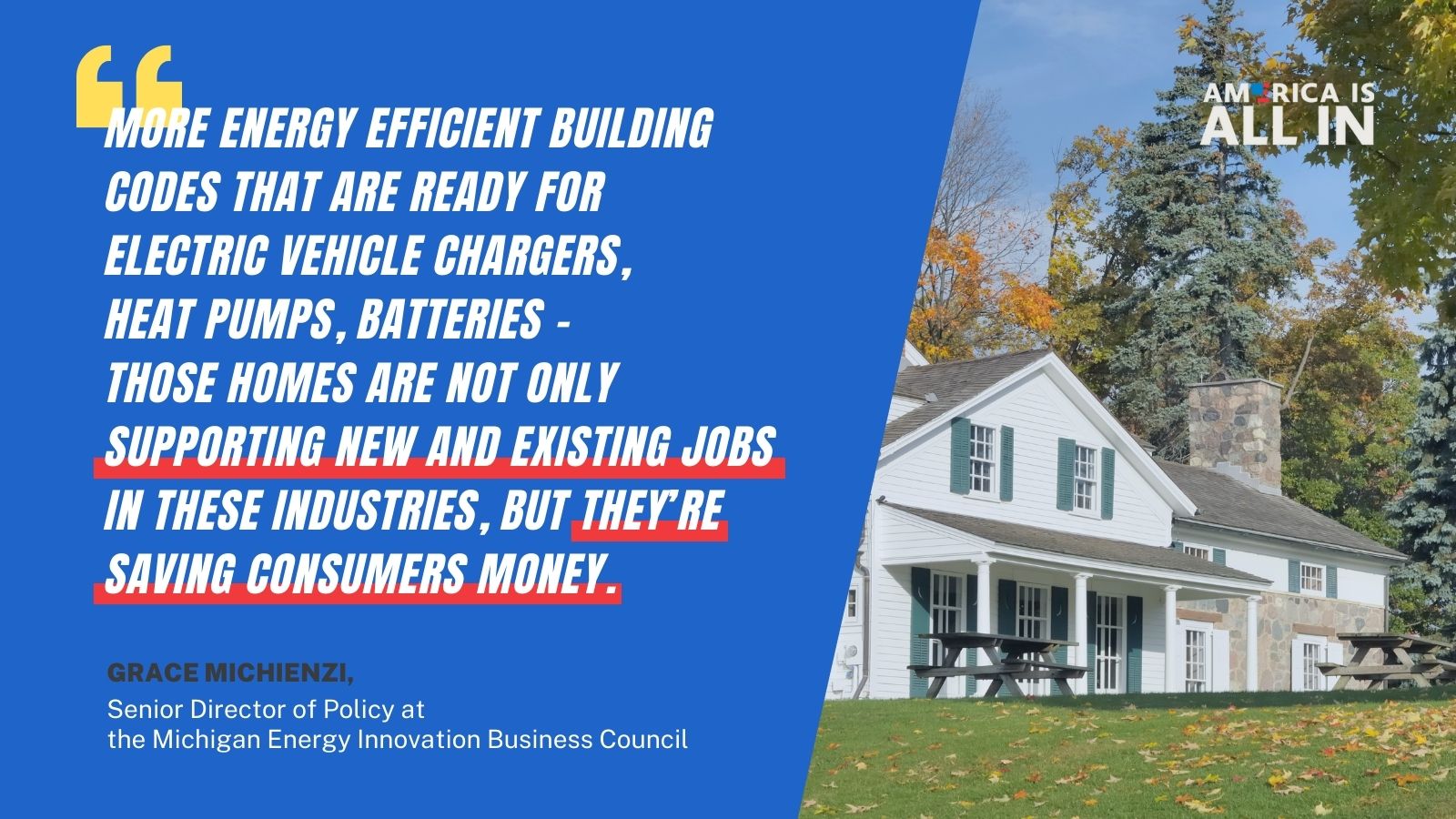 As the state's aging power grid becomes a growing concern, constructing more resilient and efficient buildings should be a priority, she added. Building new homes that are ready for increasingly important technologies, like solar panels and batteries, is far easier than going back and doing it later – and it could make a major difference as storms and outages grow more frequent.
"It goes beyond cost savings," Michienzi said. "It's about keeping the lights on and making it easier for consumers to have their own power generation and storage."
Setting a new standard
Unlike other states, Michigan uses a statewide building code, which currently prohibits local jurisdictions from enacting their own codes. The state, however, could write a stretch code appendix into the statewide base code, allowing localities to go further. Zach Waas Smith, Sustainability and Innovations Manager with the City of Ann Arbor, is tasked with reviewing developers' plans for new construction projects and suggesting more sustainable alternatives, such as going all-electric instead of adding a new gas line, or including solar and backup storage.
The problem, Waas Smith said, is "it doesn't have any teeth." Without a legal pathway to require some of these changes, cities like Ann Arbor have to get creative to encourage voluntary action. But the city has far greater ambitions when it comes to climate action – community wide carbon neutrality by 2030, in fact. 
"Ann Arbor's goal for carbon neutrality, the state's goal for carbon neutrality, federal goals – these things are not going to happen on their own," Waas Smith said.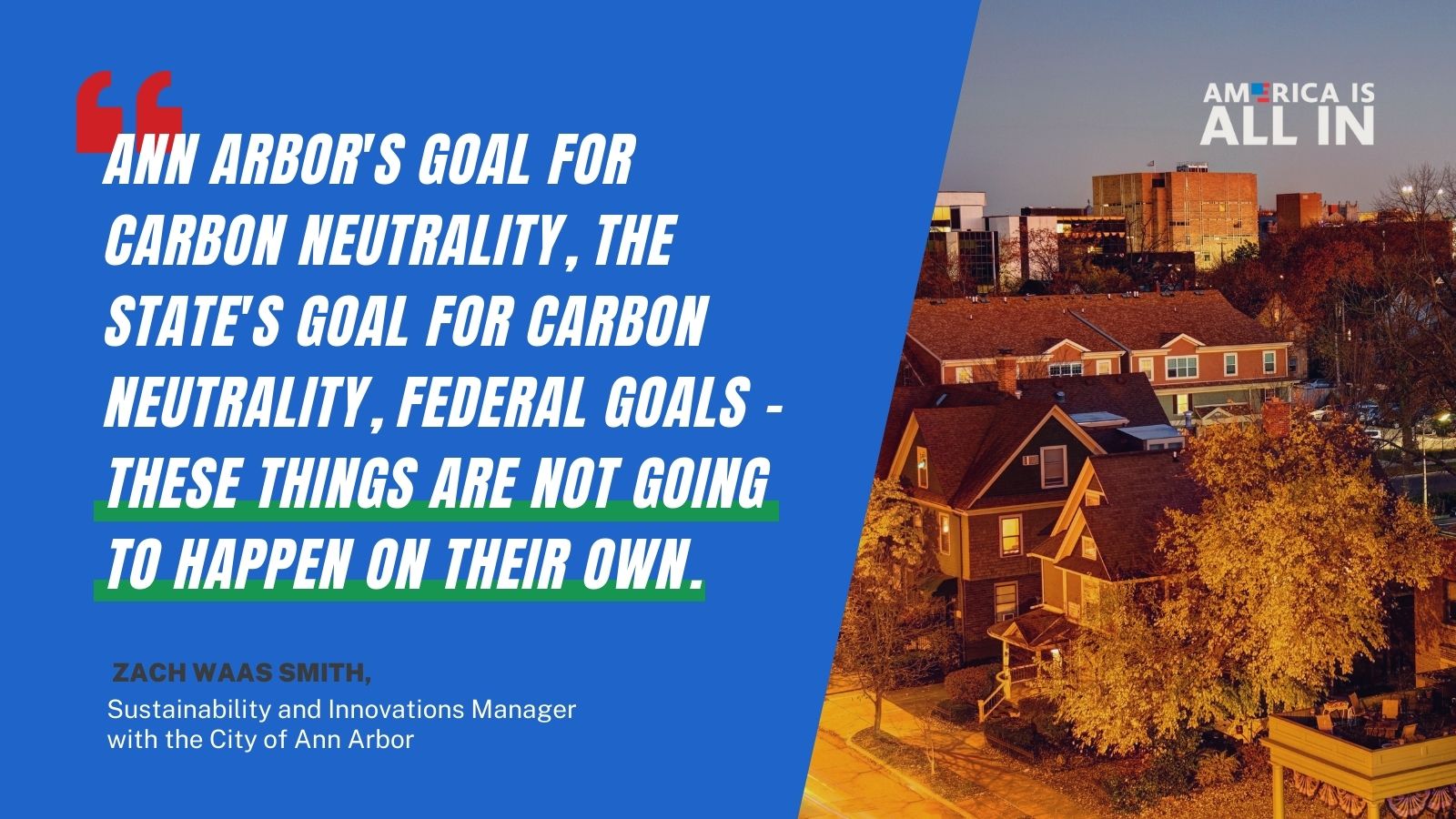 While Waas Smith recognizes that something like a statewide net zero building code would not be doable for every city, he thinks local jurisdictions should have the option of enforcing stronger building energy codes. "In the case of Ann Arbor, we're there. We're ready," Waas Smith said. "If we could have an above code minimum, I promise it would already be in place. We're held back."
Dale Hulst is also looking to go far beyond the state's existing building code with his vision for Michigan Net Zero Homes. After a long career in HVAC, he got involved with local climate action organizations and dreamed up his own company that would build affordable, zero emission houses constructed with low embodied carbon materials and equipped with enough solar to power the house and two EVs. In the end, he thinks his first project could be the greenest home in West Michigan.
While the current building energy code debate won't impact his plans, Hulst still wants to see a stronger code that encourages builders across the state to pursue more sustainable construction. 
"I'm really trying to do this as a catalyst to the building industry," he said. "In terms of energy codes, Michigan is way behind right now. If the codes are more aggressive, it would level the playing field."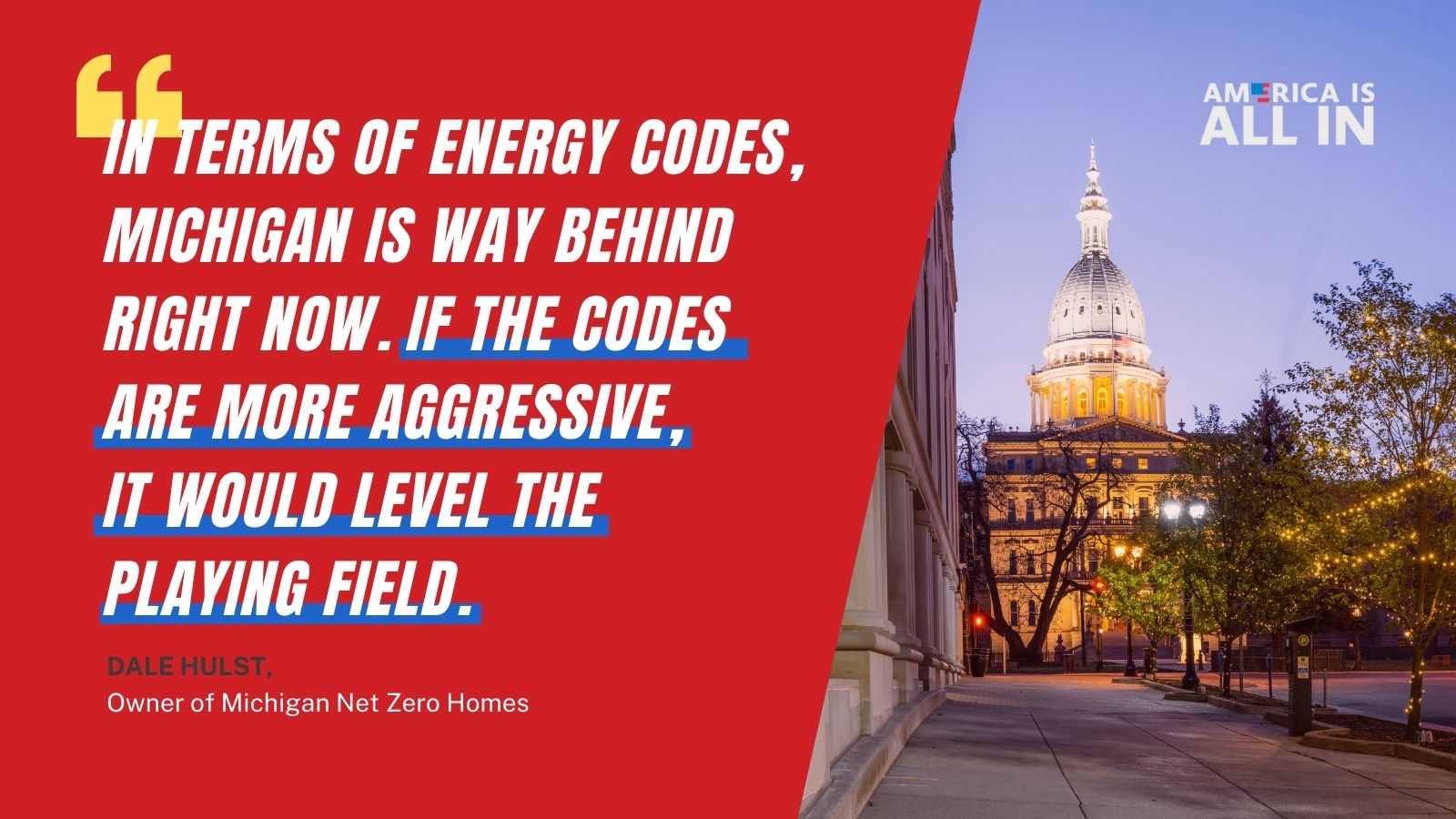 While adopting the 2021 IECC this year would mark an important step forward in terms of aligning Michigan's buildings with its critical climate targets, advocates won't stop there. Many of them are already eyeing the next code cycle and new opportunities to not only decarbonize Michigan's buildings, but to prepare them for the future.