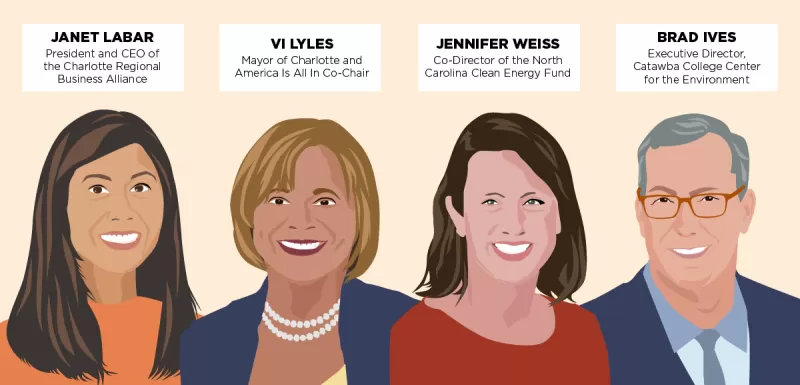 Cities, businesses, schools, and individuals can now contribute to effective climate solutions and benefit from the clean energy economy, thanks to the Inflation Reduction Act (IRA). The landmark law created an array of financing incentives and credits designed to benefit tax-exempt entities – and much of the funding is uncapped. 
However, a major barrier to entry, particularly for smaller organizations, is understanding where they fit in and how to get started. To address that need, America Is All In is hitting the road to help communities maximize the benefits of the IRA. The Cash In on Clean Energy Tour kicks off on July 20 in Charlotte, North Carolina – a natural fit given the leadership of Mayor Vi Lyles. 
Charlotte is committed to powering the city's fleet and facilities with zero-carbon sources by 2030, along with a broader goal to be a low-carbon city by 2050. To meet those goals, the city is investing in transportation electrification, energy efficiency, and promoting equitable access to clean energy. 
"Being a leader in climate action allows us to showcase innovative solutions, attract investment and talent, and strengthen our position as a forward-thinking city," Lyles said. 
Now, thanks to new federal funding opportunities like the IRA, Lyles can think even bigger. "This funding enables us to implement larger-scale projects, expand our programs, and invest in innovative solutions that would have otherwise been challenging to achieve solely through local resources," Lyles said.
That excitement is palpable across experts representing a wide range of sectors in North Carolina. 
Jennifer Weiss, co-director of the nonprofit North Carolina Clean Energy Fund, said her organization is preparing for an influx of capital through the IRA's $27 billion Greenhouse Gas Reduction Fund. The funds will enable them to create financing solutions that fill critical gaps in the clean energy investment space, particularly when it comes to organizations and individuals that are often last to benefit.
"We're looking at low-income households and lending to them for energy efficiency or for solar. We're looking at small businesses. We're looking at nonprofit organizations," Weiss said. "They might be wanting to pursue some of these projects, but they don't have the capital to do it." 
Green banks like Weiss' will be essential in directing IRA funds to the people and places that need it the most. While the public is increasingly interested in clean energy, "a lot of banks don't have the risk appetite for it because it hasn't been around long enough," Weiss said. But an injection of funds flowing to community lenders can help change that calculation and make clear renewable energy, efficiency, and electrification projects are sound long-term investments. 
The business community is also eager to participate in this clean energy transition. For Janet LaBar, president and CEO of the Charlotte Regional Business Alliance, it comes down to competitiveness. Working on behalf of the business community in Charlotte and 14 counties across the Carolinas, LaBar is committed to ensuring the region is positioned to capitalize on new economic growth opportunities, like the IRA. 
"It's not just about real estate," LaBar said. "It's about the talent. It's about proximity to customers. We're just really well poised to take advantage of some of those opportunities."
She's noted an uptick in interest in clean energy, electric vehicle supply chain, and manufacturing in particular, and is excited that the business community will be able to access the financing incentives they need to jump in. "I think it's a huge opportunity," LaBar said. "The fact that we are seeing a spurring of investment activity across the country because of the IRA is a great thing."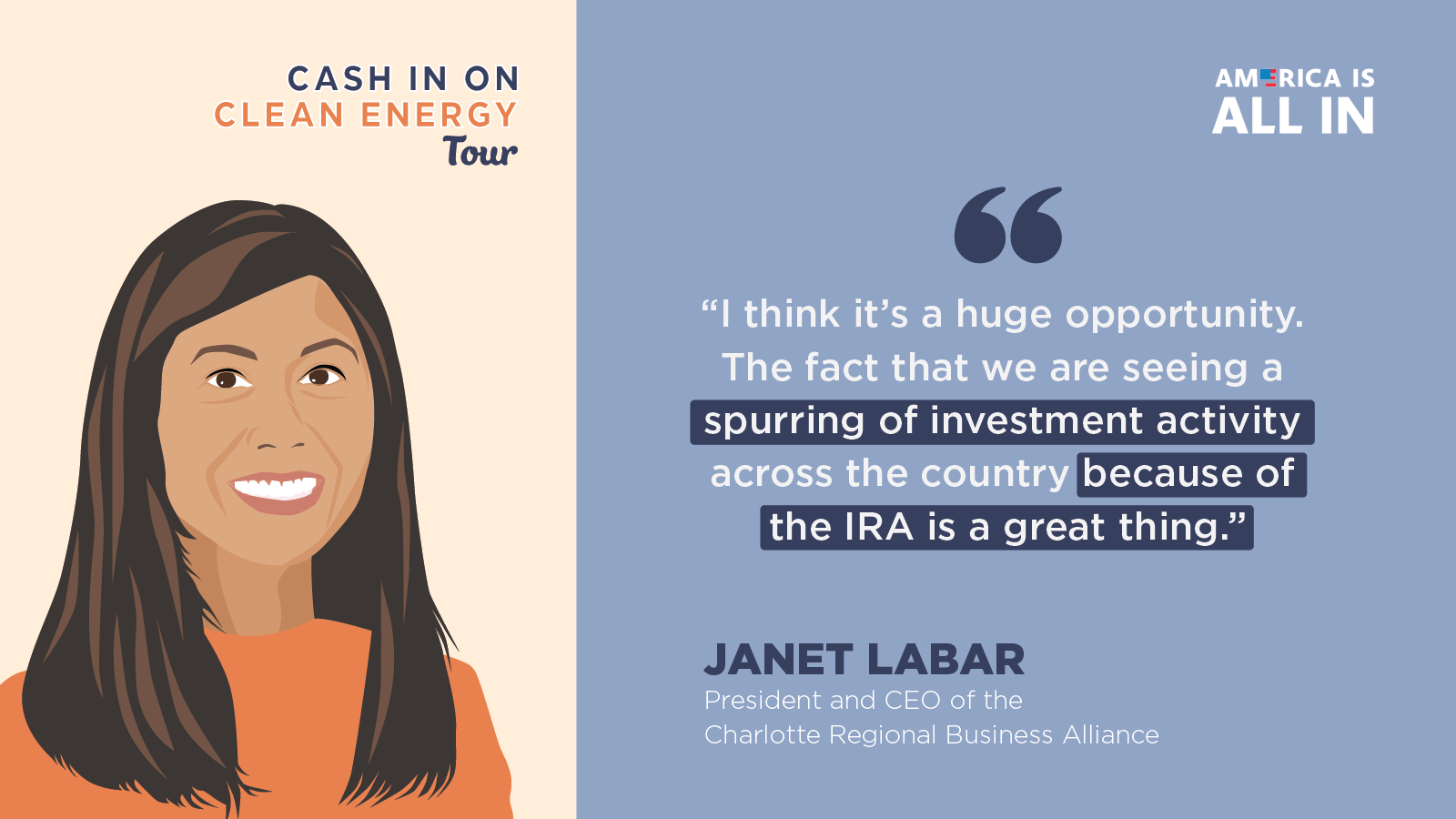 Catawba College in Salisbury, North Carolina is ahead of the curve when it comes to leveraging federal funding to achieve an organization's sustainability goals. Starting with the installation of geothermal wells in the '90s, the school's multi-faceted efforts have earned it the distinction of being the first carbon-neutral college in the Southeast. 
"It's a big accomplishment for us," said Brad Ives, executive director of Catawba's Center for the Environment. "And it's attributed to the kind of work that I think the Inflation Reduction Act is going to let others do." 
The IRA is helping Catawba take its efforts even further. When Ives realized the school could recoup 40 percent of the cost of its new solar-powered picnic shelters, he increased the order from three to five. They're also finalizing another solar array for campus, bringing the total to more than one megawatt of electricity generated on campus, thanks to a 30 percent return from the IRA, plus another rebate through Duke Energy. Ives' impressive list goes on, including an EV charger, electric maintenance and security vehicles, and more. 
Along the way, Ives is committed to giving students a hands-on learning experience and helping other institutions see what's possible. He recommends taking a multi-disciplinary approach, ensuring financial, facilities, policy, and environmental experts are all working together to get the biggest return on the school's sustainability investments. If they don't have the resources to assess IRA funding internally, Ives recommends finding external support, "because this is real money."
And that's exactly why Mayor Lyles is so excited about the opportunity to engage the community in all the IRA has to offer. 
"This workshop will provide a platform for learning, networking, and collaboration, allowing participants to engage with experts, explore funding options, and gain a deeper understanding of the resources available to them," Lyles said. "Ultimately, our goal is to empower our community to take advantage of the IRA and contribute to our collective efforts in building a more sustainable and resilient Charlotte."