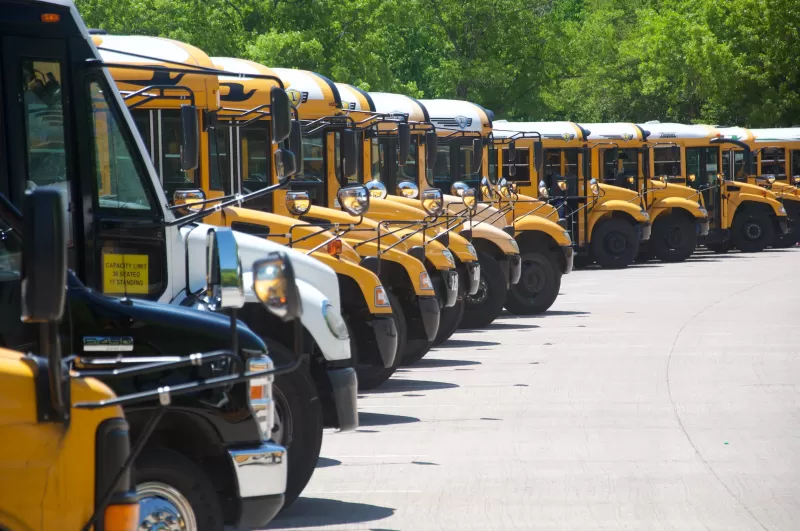 The smell of diesel exhaust from those iconic yellow buses has long been part of the school experience in the United States. Diesel-powered engines release pollution that damages human health and worsens climate change – but they are no longer the only viable option. Innovations in financing and technology are encouraging the shift to electric school buses and providing a wide range of benefits for communities across the country.
New funding opportunities, like the Environmental Protection Agency (EPA)'s Clean School Bus Program, are helping school districts convert to electric buses. The EPA is currently offering $400 million in competitive grants and, if the previous round is any indication, interest will likely outpace available funds. Last year, the agency received roughly 2,000 applications, totaling $4 billion, and awarded nearly $1 billion. 
While electric school buses comprise only about 1% of the nation's fleet, federal and state programs are accelerating the transition. Nearly 6,000 electric school buses have been awarded, ordered, or delivered across the US, according to data from the World Resources Institute's Electric School Bus Initiative. All 50 states, plus five territories and tribal nations, will soon have their own electric school buses.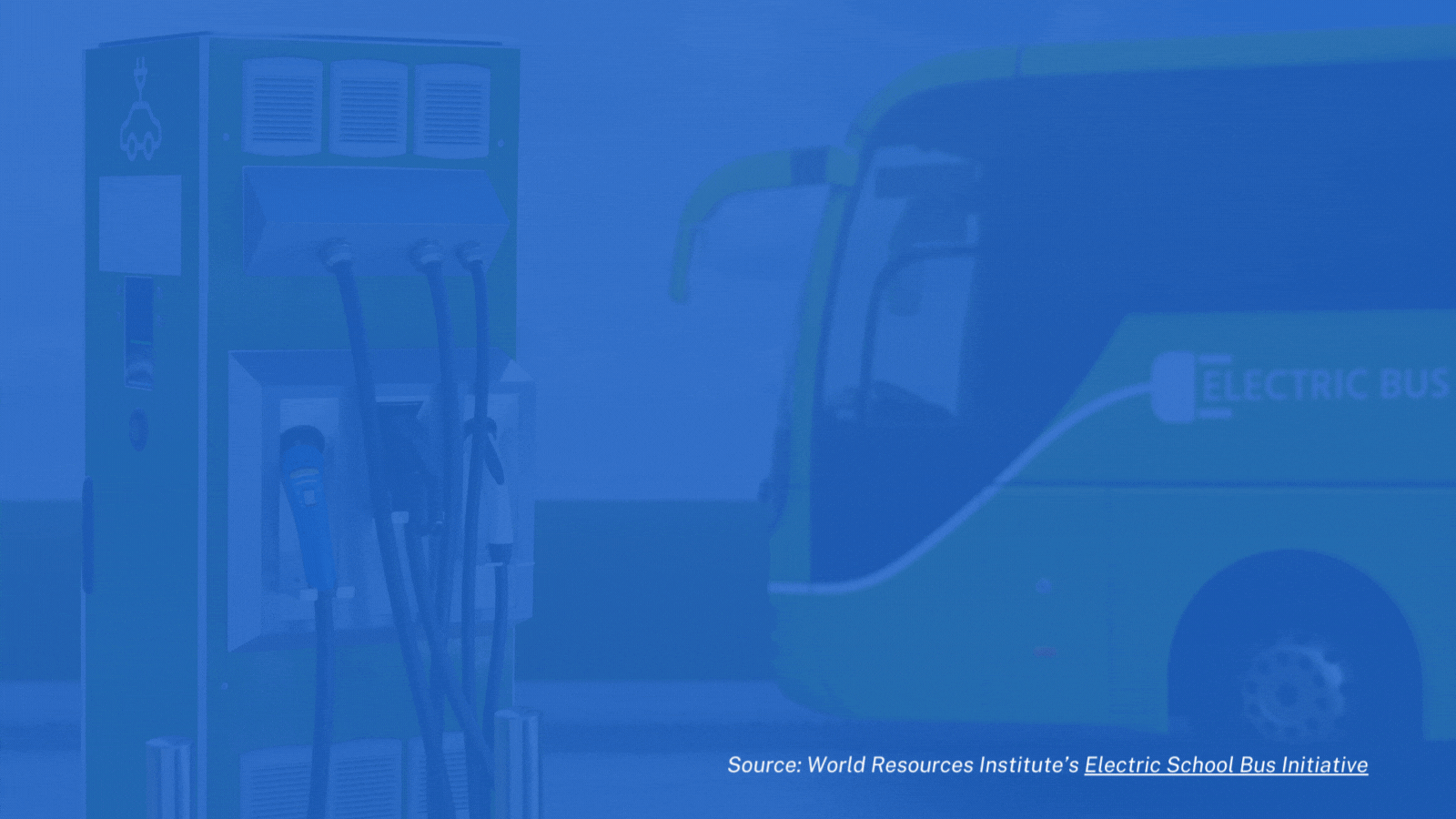 "It's going to be really critical to getting school districts that have been on the fence, or are waiting to find out more about electric school buses and how they perform," said Carolina Chacon, coalition manager at the Alliance for Electric School Buses. "Just seeing those buses in their communities or neighboring districts and understanding that there's a lot of financial and technical assistance out there now to help them with this transition."
In addition to cutting diesel pollution, which the EPA has linked to serious health conditions like asthma and respiratory illness, electric buses reduce the emissions that drive climate change and can have several other added benefits, like reduced fuel and maintenance costs and the ability to send power back to the grid. But the road to an all-electric fleet is still full of obstacles.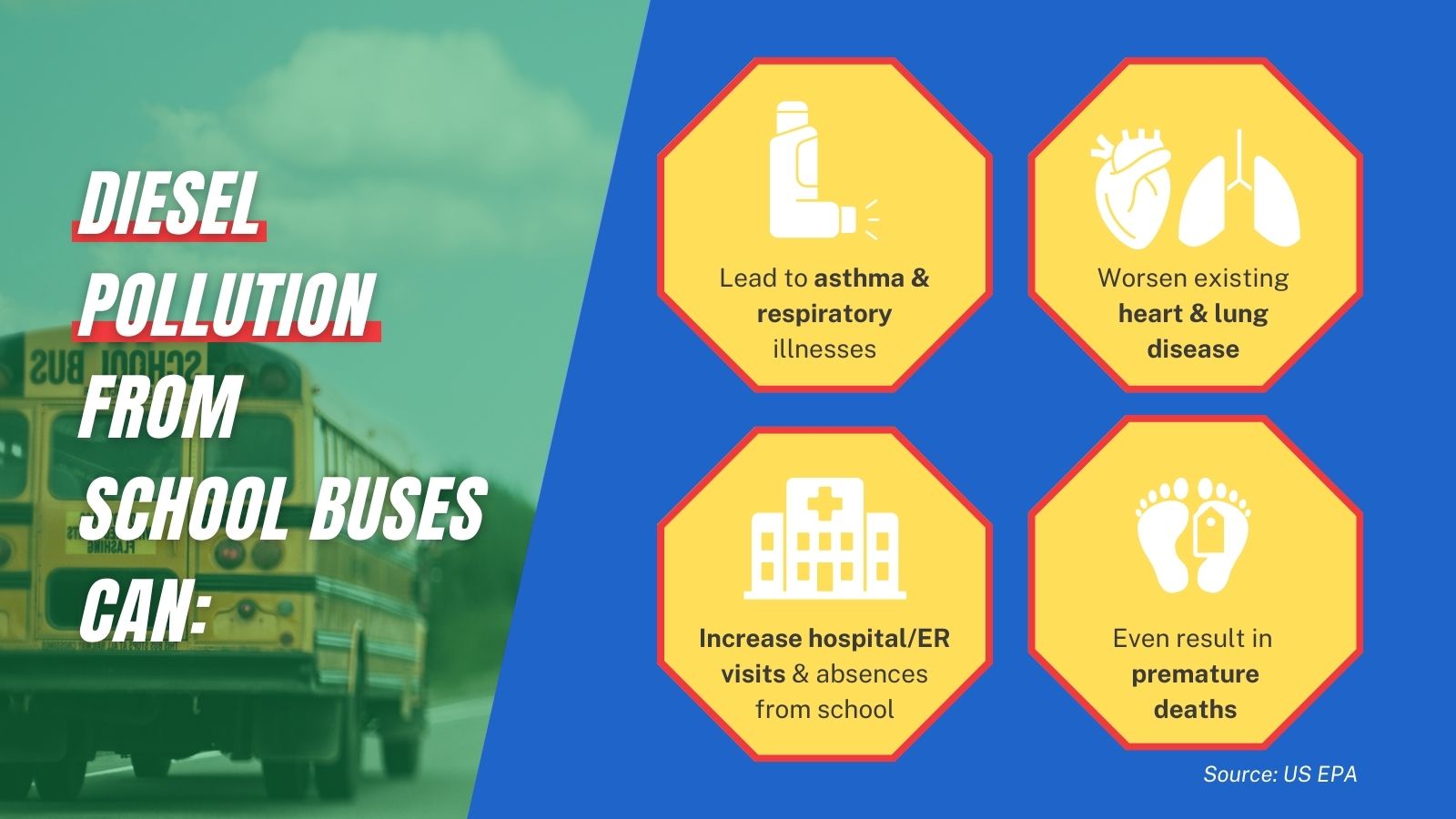 Going electric in Salt Lake City
Few people understand the challenges better than Ken Martinez, transportation manager for the Salt Lake City School District in Utah. Martinez oversaw the transition to natural gas-powered buses in the 1990s and, starting in 2017, he has played a major role in the district's shift to electric.
"We have some of the worst air quality in the nation when we get our inversions, especially December and January," Martinez said. In some areas, like Rose Park, that's compounded by vehicle traffic and an oil refinery. So, local officials decided to pursue a grant, funded by the Volkswagen litigation settlement, to purchase their first four electric school buses.
Despite COVID-19 delays and other challenges in receiving and charging the buses, the district now has 12 electric school buses up and running. And they aren't stopping there – a student-led sustainability resolution set a goal of carbon-neutral district operations by 2040, and Martinez's transportation department has its own goal of a 75% electrified bus fleet by 2035. They've installed solar panels on one of the bus canopies and their charging infrastructure is now set up for vehicle-to-grid (V2G) charging, which will enable them to send power back to the grid.
It's been a constant learning process, according to Martinez, starting with the drivers. At first, "nobody wanted to drive them... Now, I've got a list of drivers that want them as soon as we can get them here."
They've found the electric school buses handle the district's many hills with ease, and actually perform better in snow because the weight is evenly distributed. As an unexpected added benefit, Martinez said drivers have noticed improved student behavior with the quiet, emissions-free ride.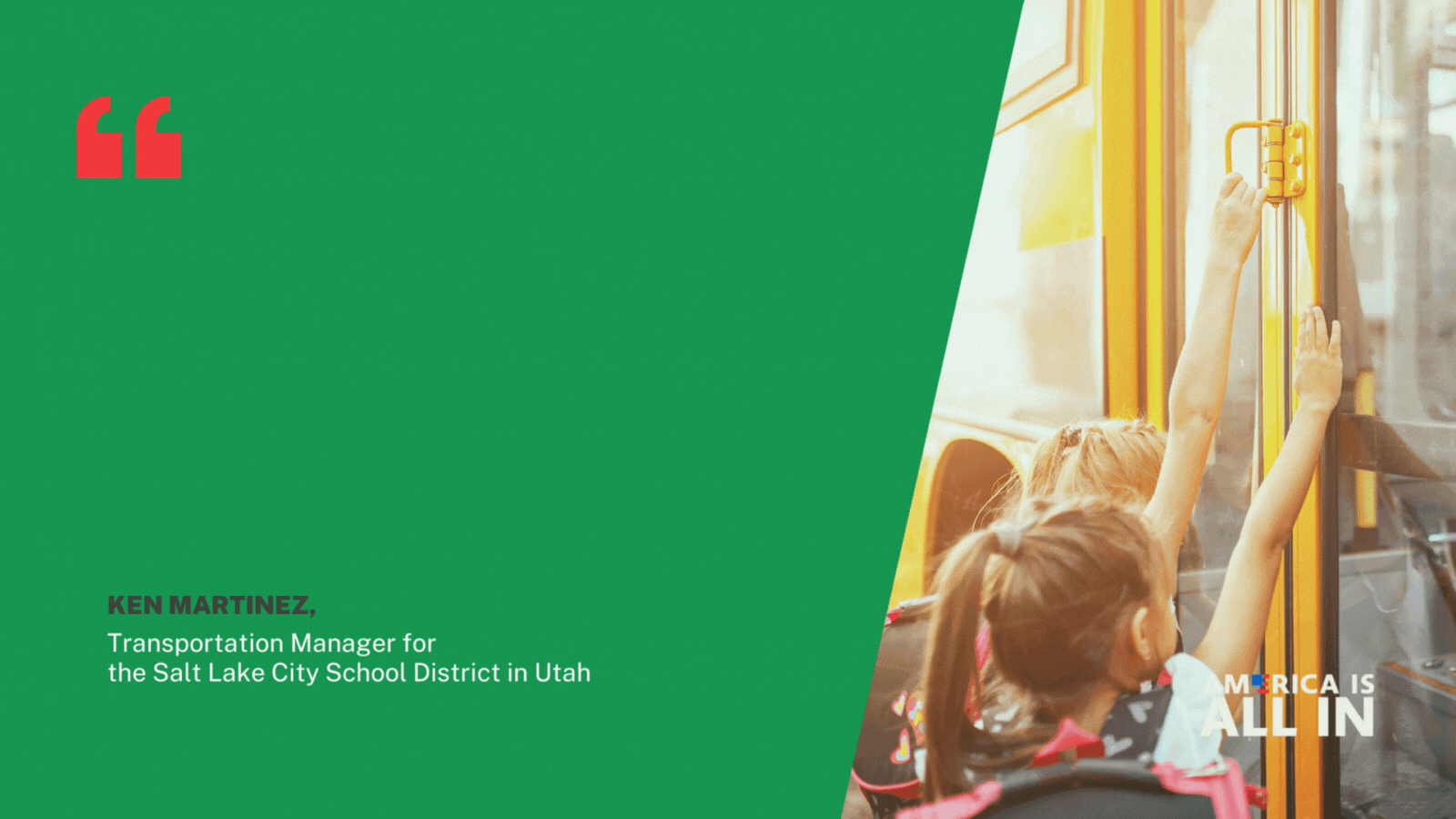 "It's more like an extension of the classroom now, rather than the ratty old diesel bus," Martinez said.
New models for a new era
Given the multiple layers of process and approval required to change the status quo, it can be difficult for one committed individual, or even several, to navigate alone, said Amy McGuire, director of market development at Highland Electric Fleets. The startup bills itself as a one-stop shop for fleet electrification and was created to provide the expertise and support many school districts need.
Highland helps with the planning, procurement, and maintenance of electric school buses and offers a wide range of ownership models – all with the goal of matching or reducing costs compared to diesel buses. 
"So far, we've been able to cover or provide services at or below diesel cost operations today," McGuire said. "We use everything we can get to be able to offer that price – incentive programs, utility programs, state programs. We have relationships with manufacturers, where we try to leverage our purchasing power."
Highland's biggest project, in Montgomery County, Maryland, currently has over 100 electric school buses across five different depots, with plans to have over 300 electric buses by the end of next year.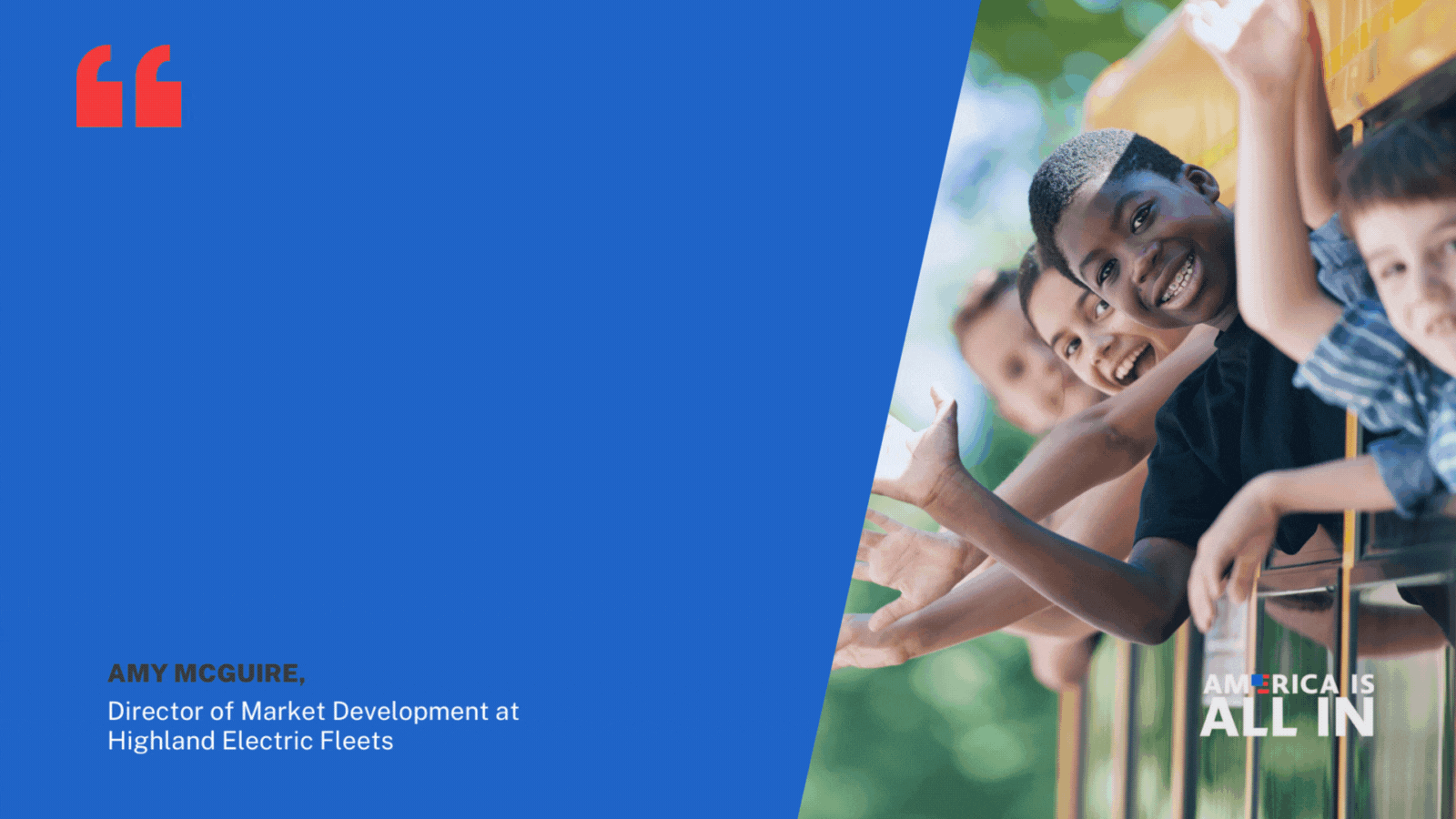 For McGuire, electric school buses are an ideal entry point for tackling the climate impact of the transportation sector. "If kids can go to school on an electric school bus every day, and then tell their parents about it and be excited about it, and parents are like, 'Wow, your bus is electric? Maybe I should get an electric car,'" McGuire said. "It's really a great place to start."
The road ahead
While the new funding opportunities are driving unprecedented interest in electric school buses, it's "a drop in the bucket" compared to what's needed to support every school district, said Chacon. Looking forward, the alliance hopes federal and state programs evolve to focus on areas with poor air quality, while continuing to prioritize low-income communities.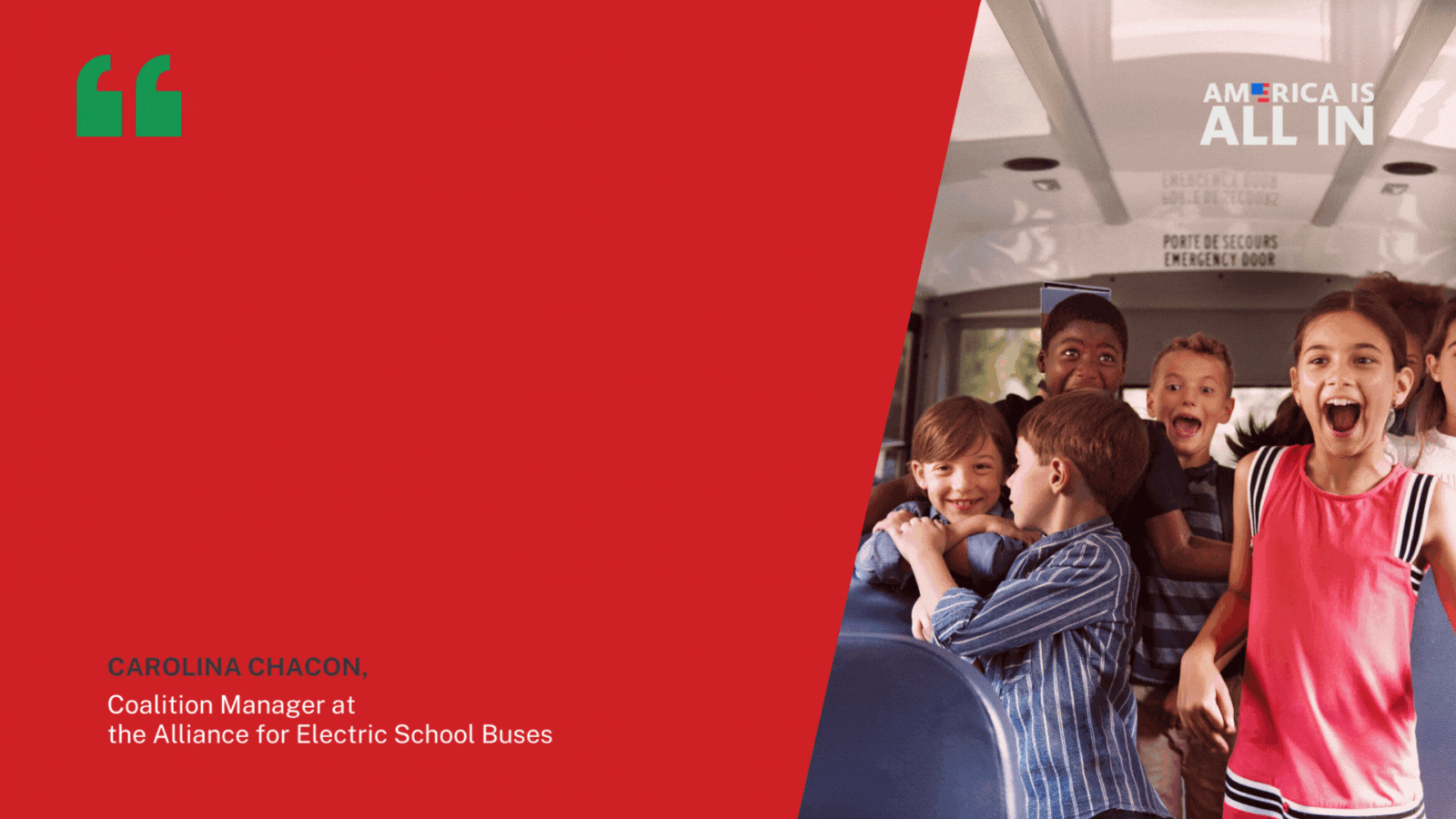 They also want to ensure manufacturing workers, mechanics, drivers, and others have good jobs that can sustain their families. "The manufacturing workers that are building electric school buses need this transition to be equitable just as much as the students and drivers who are riding those buses," Chacon said. 
With more and more electric school buses in communities across the country, bolstered by new federal and state funding programs and ever-evolving technology, the domino effect advocates have been waiting for may be just around the corner.  
 
For more information, visit the EPA's Clean School Bus Program