St. Andrew's Episcopal Church Cashes In On The Inflation Reduction Act To Add Solar Panels To Sanctuary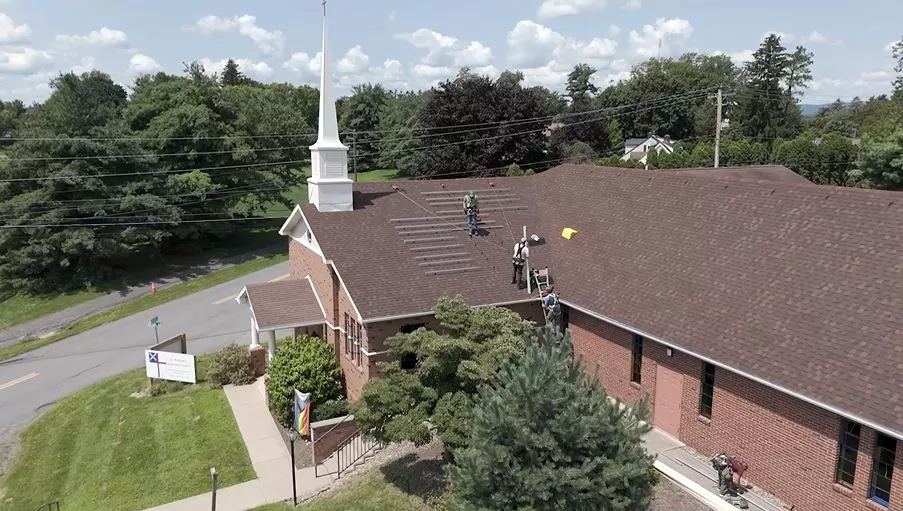 St. Andrew's Episcopal Church in Lewisburg, Pennsylvania has a small, but dedicated membership of just over a hundred. Like a lot of smaller congregations, they've had high utility bills to contend with, especially during the recent sweltering heat wave. Thanks to an investment in solar panels, they'll have a far easier time with energy costs in the future.
The church broke ground in 1950, with construction led by Father James Clark. Maintaining a building over seventy years old is no simple task. St. Andrew's will save a lot of money by reducing their utility bills thanks to their 52 new solar panels, which will be activated in fall.
"We can save $4,000 a year, plus whenever you generate electricity in this state, you earn solar renewable energy credits," says vestry member Maggie Chappen. "That's also going to be about a thousand dollars a year."
The panels were made possible by a combination of private donations and President Joe Biden's Inflation Reduction Act (IRA), the largest renewable energy infrastructure investment in American history. A donor contributed $82,000, and the IRA covered 30 percent of the solar installation cost in the form of a tax rebate to the donor.
The project is also an expression of devout faith. The Episocpal Church follows a doctrine called creation care, where adherents assume responsibility for maintaining a healthy environment  as a way to honor God.
Before the Inflation Reduction Act made these funds available, churches and other non-profit entities were excluded from tax credits related to solar. The Biden Administration has been reaching out specifically to faith communities about solar power opportunities and benefits. In July, Secretary of Energy Jennifer Granholm said in a webinar, "Scripture teaches us to take care of the garden of the world and to love thy neighbor as thyself."
That sentiment is echoed by St. Andrew's rector, the Rev. Sarah Weedon.
"Creation care is really important to us as Episcopalians," she says. "As it should be for all people of faith. This is God's creation, and we were called to be stewards of that creation."
There is a mini solar revolution happening in the Lewisburg area. In 2022, nearby Bucknell University activated their 5,000 new solar panels, which now provides 10 percent of the school's energy needs. Chappen herself is a longtime advocate of solar power. She has had panels on her barn for the past decade.
"I was the person most familiar with the whole process," she says. "And it was pretty obvious for our church. This is definitely a way to improve our finances, not only as our environmental footprint, not sustainable, but our finances are not sustainable. So yes, we want to do creative creation care and environmental stewardship. And that's been part of our mission for a long time."
The Episcopal Church is taking climate change and renewable energy very seriously. In July 2022 at their General Convention, the church committed to being a carbon neutral organization by 2030. There are more than 6,000 Episcopal churches across America.
Producing their own energy will allow St. Andrew's to serve as a community resource hub. Like many parts of the country, Lewisburg lost power during Winter Storm Uri in 2022. Though Pennsylvania is fairly far north on the Eastern Seaboard, the state still sees devastating Atlantic storms like Hurricane Ida. A diversified grid full of solar energy producers eases strain on the system and allows places like St. Andrew's to provide emergency relief.
"We feel like just by feeding into the grid, we're going to stabilize and reduce the energy costs for everybody in our co-op," says Chappen. "So that's an important contribution. And if everybody that had a south-facing roof did that in the community, we wouldn't be so much at the mercy of the up and down costs of natural gas. I think in New Orleans where there's a lot of weather related catastrophes, it seems like churches and restaurants, if they had a power source at the time of a natural disaster, they could be resilience hubs. Their kitchens could be used. People could recharge their cell phones. There's lots of things that they could provide."
The church does not currently have a battery storage system to house excess energy, but if they make future investments in one they will be eligible for even more government aid. The Office of State and Community Energy Programs in the Department of Energy currently oversees a $16 billion program of grants and assistance. Churches and other non-profits can receive up to $200,000 in direct payments from the IRS for renewable energy improvements.
All that's left is to bless the solar array. According to Chappen, the bishop and priest will be brought to the roof on a lift, adding a beautiful mixture of faith and technology for a project that will ensure St. Andrew's continues to serve its congregation.