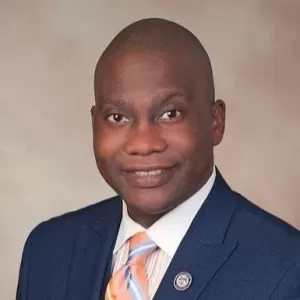 Errick Simmons
Mayor of Greenville, Mississippi
Mayor Errick D. Simmons is the first African-American male and the second African-American mayor of Greenville, Mississippi, where he received the highest percentage (74%) of the popular vote ever received by a mayoral candidate in Greenville.
In 2007, Mayor Errick D. Simmons began his career in municipal government.  Before returning home to Greenville to start his municipal government career, Simmons graduated second in his class at T.L. Weston High School in 1995, second to his twin brother and law partner, Mississippi State Senator Derrick T. Simmons, who is the Senate Minority Leader for Democratic Party. Simmons later studied at Jackson State University, where he received a Bachelor in Business Administration in Economics in 2000.  In 2002, he received a Master's in Arts in Economics from Howard University Graduate School of Arts and Sciences and received his Juris Doctorate from Howard University School of Law in 2005.   
Currently, Simmons serves as a member of several local, state, and national boards and organizations, to name a few: President, Mississippi Delta Mayors Association, 1st Vice President of Mississippi Municipal League (MML), Vice President of Delta Council, Mississippi Economic Council Board of Governors, Boys Scouts of America, U.S. Conference of Mayors, Washington County Economic Alliance Board of Directors, Greenville Rotary Club (Paul Harris Fellow), Annie E. Casey Applied Leadership Network, life member of NAACP, life member of Magnolia Bar Association, life member of Kappa Alpha Psi Fraternity, Inc., member of Mississippi Association of Justice, Mississippi Bar Association, National Bar Association, American Bar Association, Beta Gamma Sigma National Honor Society, and Chairman of Washington County Democratic Party. Simmons is a certified municipal official who has completed all three certification levels (i.e. basic, advanced, and professional) of the Mississippi Municipal League's Certified Municipal Official Program.
In the Christian spirit of unity, Mayor Simmons pushed a message of "One People, One Goal, and One Greenville" to promote unity and foster togetherness when he became mayor in 2016.  The community has taken on the call to unify and work more collectively for a better Greenville.  Keeping God as the center of his administration, Simmons first initiative was a faith-based one entitled, "Worship on the Water" where faith-based leaders across the Mississippi Delta joined him for such announcement.  Worship on the Water is a nationally recognized, interfaith, interracial initiative that fosters community and promote unity on the fifth Sunday, of every month purposed on bringing people together regardless of racial identity or religious affiliation. Simmons states, "Psalm 100 demands us to make a joyful noise unto the Lord. On the fifth Sunday of every month, residents and citizens come and worship at the water on our levee front to make a joyful noise together in corporate worship. Folks are not restricted by the color of their skin nor confined by their churches' addresses.  We come to exalt God as one community."  Worship on the Water received the U.S. Conference of Mayors' 2017 City Livability Outstanding Achievement Award presented by President Bill Clinton. 
Simmons later announced the City's first ever re-entry program entitled, Greenville Re-Entry and Training Program (GREAT), a program aimed to hire and train returning citizens throughout the City.  The City of Greenville hired its very first returning citizen on March 1, 2018.  Under his administration as first-term mayor, Greenville has announced more than $110 million in local, state, and federal investments including the announcement of a $40.1 million new federal courthouse; a $9.1 million redevelopment of the Sears, Roebuck & Company building to include a boutique hotel, microbrewery, downtown restaurant, and butcher shop.  
In August 2018, an estimated 100 new jobs were announced through economic development projects.  Nufarm announced 68 manufacturing jobs with a $20 million investment, the first such announcement in Greenville since Textron in 2004.  Tru by Hilton announced an 84 room hotel with 30 jobs with an estimated $10 million investment. 
Simmons, his twin brother, and their firm cheerfully give to the community.  Among several other things, the Simmons family sponsors an annual Christmas Toy Give-a-way, providing toys to nearly 600 needy children and families annually.  To date, Simmons family has held their toy giveaway for nine consecutive years serving more than 5,000 children. Additionally, Mayor Simmons financially contributes to both Jackson State University, Howard University, and faith-based, charitable, civic, and social organizations.  He is a mason and member of the Greater Springfield Baptist Church in Greenville, Mississippi where Mark S. Buckner is pastor.  He and his wife, Dr. Temika M. Simmons, have three children, Errick, Eriel, and Elin.