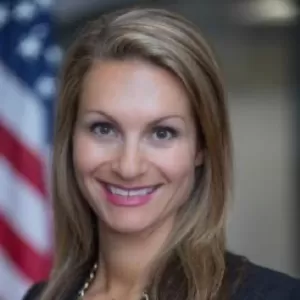 Ali Santore
Senior Vice President of Government and Social Responsibility, Providence Health
Ali Santore is Senior Vice President of Government Affairs and Social Responsibility for Providence, one of the largest health systems in the U.S. Her national advocacy and engagement strategies have advanced federal priorities that preserve and expand access to care for the underserved, positioning Providence as a leading advocate for mental health, advance care planning, and strengthening the Medicaid program. Ali also oversees Providence's social responsibility programs, including the organization's initiative to become carbon-negative by 2030.
Prior to her work at Providence, Ali served as a vice president with CFM Strategic Communications, a federal lobbying firm based in Portland, Ore, and Washington, D.C. Earlier in her career she served as a legislative assistant to Sen. Gordon H. Smith and as professional staff to the U.S. Senate Special Committee on Aging during Sen. Smith's tenure as both chairman and ranking member. Her role included advising on Sen. Smith's health and human services legislative agenda during his service on several Senate committees.
In 2016, Ali was honored to receive national recognition from the Catholic Health Association as a recipient of the Tomorrow's Leader award. Ali was awarded the Oregon State Society's 2017 Webfoot Award in recognition of her service to the volunteer organization and her role in national politics during the last 10 years. In 2020, Ali was honored with the Visionary Leader Award by Practice Greenhealth, an organization dedicated to sustainable health care. A graduate of the University of Oregon with degrees in political science and philosophy, Ali is a guest lecturer at the George Washington University Milken School for Public Health. Her professional associations include membership in the Washington D.C. Society of Young Professionals, and service on the National Charity League and the board of the Oregon State Society.