With a Net-Zero Goal, the National Aquarium Became a Climate Leader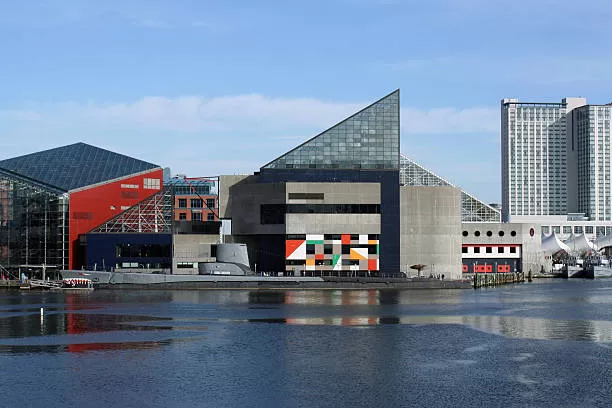 Baltimore's National Aquarium is home to more than 20,000 aquatic animals and welcomes 1 million guests annually to discover and learn from them. Such a large, resource-heavy production takes a lot of energy, which runs counter to the pursuit of environmental sustainability that is built into the nonprofit aquarium's mission to inspire conservation of the world's aquatic treasures.
Accordingly, in April 2022, the institution has committed to reducing its greenhouse gas emissions to net zero by 2035. Some of its activities, such as tree-planting projects, were already helping addressing climate change. But this commitment is more ambitious. The aquarium will reduce its overall energy use, increase its energy-efficiency, and use energy generated with the lowest emissions possible to get to net-zero. It joined with corporate partner Constellation to install a solar tree on Pier 4 in Baltimore's Inner Harbor in July as a symbol of its commitment to this goal.
"We feel it's important as a leader in the industry and as a leader in Baltimore to show people that it can be done and that it must be done," says Laura Bankey, the aquarium's vice president of conservation programs. "Going all in on climate means … every decision that we make in the future has to use climate change as a filter."
The aquarium is also serving up climate change related programming to help educate visitors about the topic and what they can do to make a difference. For example, a popular exhibit is Magic Planet, a spherical display of the Earth that showcases projections such as the lights around the globe at night and depictions of sea level rise. Another is the "coral cart" that holds a large replica of a piece of coral that visitors can touch to experience first-hand.
"Surveys show us that the people that come to aquariums and zoos are looking to connect with the animals, the environment, and they're looking to find ways that they can protect animals in the environment," says Anderson. "So, they're a large population coming to us hoping to learn more about what they can do."
The aquarium assists with this not only via educational programming, but also through leading by example. Visitors will find no single-use plastics, which have been eliminated throughout the aquarium's operations, including at the cafes and gift shop. They can learn about how the aquarium composts food waste and recycles as much as possible, including items like wet suits and used cooking oil. Sensitivity to environmental impact is also central to the facility's physical footprint. The Animal Care and Rescue Center is LEED certified, and the aquarium's buildings are safe for migratory birds.
"We want to focus on things that are hopeful, things that inspire action," says Megan Anderson, the aquarium's vice president of learning and engagement. "And with those right tools that we give our educators, we're finding our conversations to be very uplifting with our guests."
The aquarium is also vocal in advocating for research and policies that enable environmental health and sustainability. It is a founding member of the Aquarium Conservation Partnership (ACP), a group of U.S. aquariums dedicated to advancing conservation of the world's waterways through consumer engagement, business leadership, and policy changes. In that context, the aquarium supports legislation that protects wildlife and habitats, such as the Endangered Species Act and the Clean Water Act. And it champions proactive solutions like the creation and expansion of marine protected areas, and the reduction of plastic waste.
With a concerted effort to bring its actions, educational programming, and emissions levels in line with its inspiring mission, the National Aquarium is fast becoming a climate leader.